Calculators

Basic with Flat Face

Basic with Angled Face
Metal-

and

X-Ray-Detectable

Calculators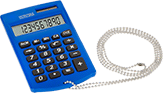 Metal and chemical additives in these calculators can be picked up by metal detectors and X-ray machines, so you can track down any pieces if they break near your food line. They are FDA compliant for direct contact with food.
The case is permanently sealed to keep bacteria out and to avoid spreading food-borne illnesses. It's bright blue, so you can easily spot these calculators if they fall into your line. They help you comply with Hazard Analysis and Critical Control Point (HACCP) programs.
These solar-powered calculators have a backup battery to keep them powered in dim conditions. They also have a lanyard with a breakaway clasp, which keeps them handy without putting you at risk—the clasp will break if the lanyard gets caught.
Number
of
Digits

Lg.

Wd.

Power
Source
Material
Button
Material
Lanyard
Material
Specifications
Met
Each
12
4

3/4

"
2

3/4

"
Solar
ABS Plastic
Silicone Rubber
316 Stainless Steel
FDA Compliant 21 CFR 177.2600

0000000
000000