DFARS (Defense Acquisition Regulations Supplement)

DFARS

(Defense

Acquisition

Regulations

Supplement)
Wired Headset Radios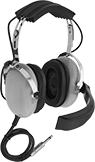 Over Head Headset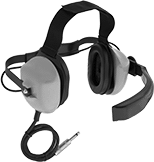 Behind Head Headset
Connect two headsets with an audio cable to transmit sound—your voice powers the radio's microphone.
Behind-head style can be worn under a hard hat.
Use a wall plate jack to create a fixed system between locations. Plug a radio into the jack and start talking. Any number of jacks may be wired together.
Use a clip adapter to temporarily connect a radio to two wires rather than using a fixed wall plate jack system.
Fit
Power
Source
Noise Reduction


Rating,

dB
Cord


Lg.,

ft.

End
Type
Connection
Type
Headband
Material
Ear Cup
Material
Ear
Cushion
Material
Each
Over Head
Voice
16
2

1/2

Plug

1/4

" Audio (Male)
Metal
Plastic
Foam
0000000
0000000
Behind Head
Voice
19
2

1/2

Plug

1/4

" Audio (Male)
Metal
Plastic
Foam
0000000
000000
| | | | |
| --- | --- | --- | --- |
| Wall Plate Jack | 0000000 | Each | 000000 |
| Clip Adapter | 0000000 | Each | 00000 |
| 100 ft. Audio Cable — 1/4" Jack (Female) to 1/4" Jack (Female) | 0000000 | Each | 000000 |
| 50 ft. Extension Audio Cable — 1/4" Jack (Female) to 1/4" Plug (Male) | 0000000 | Each | 000000 |
| 50 ft. Audio Cable — 1/4" Jack (Female) to 1/4" Jack (Female) | 0000000 | Each | 000000 |
| 100 ft. Extension Audio Cable — 1/4" Jack (Female) to 1/4" Plug (Male) | 0000000 | Each | 000000 |