Shim Stock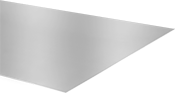 Cut it into custom shapes to fit your application. Sheets come flat packed.
For accurate leveling, choose materials such as steel or stainless steel, which are hard enough to resist scratching and deforming. Softer shims, like copper or aluminum, can be used as wear plates between components that rub together, preventing damage to equipment. Metal shims include a material certificate with traceable lot number and test report.
Stainless steel shim stock is more corrosion resistant than steel shim stock.
Spring steel shim stock is comparable in strength to carbon steel shim stock, but is harder and holds its shape better. It isn't as corrosion resistant as other shims.
Brass, copper, and bronze shim stock is corrosion resistant and nonmagnetic. Copper shim stock is a good conductor of heat and electricity, so it's often used when installing heat sinks. Bronze shim stock is stronger than copper or brass shim stock.
Nickel shim stock is our most corrosion resistant shim stock.
For technical drawings and 3-D models, click on a part number.