Scouring Sponges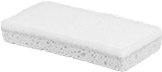 Combine the aggressive cleaning action of a scouring pad with the absorbency of a sponge.
Sponges with one scouring side consist of a scouring pad on one side and a sponge on the other. The pad on the light-abrasion sponge is nonscratching.
Number of
Scouring Sides
Abrasion
Type

Lg.

Wd.

Ht.

Color
Pad
Color

Pkg.




Qty.

Pkg.

1
Light
5"
3"
1

3/4

"
Beige
Yellow
5
0000000
00000
Super-Cushioning

Foam Mesh Sheets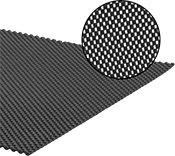 Color:

Black,

White,

or Beige
Temperature

Range:

-20° to 140° F

Cell Type : Closed

For Use

Outdoors:

No
Pressure to Compress

25%:

Not Rated
Tensile Strength

Rating:

Not Rated

Oil-

Resistance

Rating:

Not Rated
There are hundreds of cushioning pillows in every foot of these pliable mesh sheets. They're often used as a protective liner in drawers and cabinets and anywhere a nonskid surface is required. This vinyl-coated polyester foam has closed-cell construction, which restricts water, air, and gases from being absorbed. Sheets are washable and moisture and bacteria resistant.