Cure Temperature

Cure Temperature
DFARS (Defense Acquisition Regulations Supplement)

DFARS

(Defense

Acquisition
Regulations

Supplement)
Maximum Temperature

Maximum Temperature
Time to Demold

Time to Demold
Foam Casting Compounds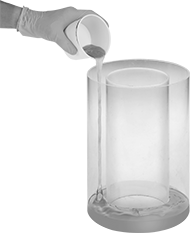 Step
1.
Pour compound into your
mold.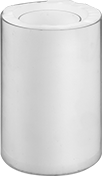 Step
2.
Compound
expands to fill every
hole and
cavity.

Mix these two-part foam casting compounds and pour into your mold—they expand to fill every hole and cavity. Because they're foam, they're lighter weight than other casting compounds.
The foam's expansion is related to its density. Denser foam expands less; lighter foam expands more.
Before casting, apply petroleum jelly (not included) to prevent the part from sticking, stretching, and tearing. It won't cause the foam to collapse as it cures. Because it leaves a residue, parts should be cleaned before painting or coating.
Rigid compounds form stiff, closed-cell foam, which prevents water and air from flowing through the part. Machinable, they're dense enough to create prototype modeling blocks, so you can make mockups and test out tooling setups with little cost and less wear on your tools.
Foam
Expansion

Density,




lbs./cu.




ft.

Time
to
Harden
Time
to
Cure
Time
to
Demold
Cure


Temperature,




°F

Max.




Temperature,




°F

Shrinkage
Color
Mixing
Required

Weight,




lbs.

Each

Polyurethane Foam

2 times
20
3 min.
15 min.
15 min.
75°
85°
Not Rated
Tan
Yes
16
0000000
0000000
2 times
20
3 min.
15 min.
15 min.
75°
85°
Not Rated
Tan
Yes
4
00000000
00000
7 times
12
3 min.
15 min.
15 min.
75°
85°
Not Rated
Tan
Yes
16
0000000
000000
7 times
12
3 min.
15 min.
15 min.
75°
85°
Not Rated
Tan
Yes
4
00000000
00000
19 times
4
3 min.
15 min.
15 min.
75°
85°
Not Rated
Tan
Yes
16
0000000
000000
19 times
4
3 min.
15 min.
15 min.
75°
85°
Not Rated
Tan
Yes
4
00000000
00000