Fabric Hampers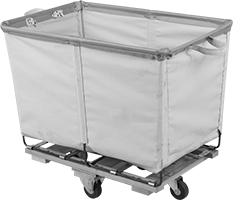 Canvas Body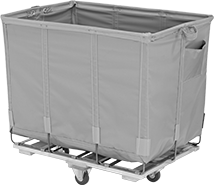 Nylon Body
These versatile hampers have flexible fabric sides and can handle wet and dry loads. They have a welded spring-steel frame; the bottom support is wood reinforced with welded flat steel. They also have reinforced wear points, fabric handles, and a storage pocket. Hampers nest together for storage. Casters are mounted in a diamond pattern to allow for tighter turns and better maneuverability, and they have debris guards to protect the wheel bearings from contamination. Their rubber tread-on-core wheels have a hard core for strength surrounded by a shock- and sound-absorbing tread for a cushioned ride on all surfaces.
Canvas body hampers have riveted seams for added strength.
Nylon body hampers are vinyl-coated to resist dirt and grease and have a smooth, snag-free surface.
Spring-loaded shelves (sold separately) raise and lower the load for easier loading and unloading. Fabric-covered springs on each corner of the vinyl-covered steel shelf mount inside the hamper.
Replacement fabric baskets replace the fabric liner.
Replacement
Fabric Baskets

O'all




Cap.,




lbs.

Volume


Cap.,




cu.

ft.

Lg.

Wd.

Ht.

Lg.

Wd.

Ht.

Wheel
Configuration
Wheel


Dia.

Choose
a Body
Color
Each
Each
Each

Canvas Fabric Body and Steel Frame

500
7
30"
20"
21"
31"
21"
26"
Two Swivel and Two Rigid Casters
3"
White
0000000
0000000
0000000
0000000
0000000
000000
500
10
34"
22"
23"
35"
23"
29"
Two Swivel and Two Rigid Casters
3"
White
0000000
000000
0000000
000000
0000000
00000
500
15
36"
26"
28"
37"
27"
34"
Two Swivel and Two Rigid Casters
3"
White
0000000
000000
0000000
000000
0000000
000000
500
20
40"
28"
30"
41"
29"
37"
Two Swivel and Two Rigid Casters
3"
White
0000000
000000
0000000
000000
0000000
000000
500
25
48"
32"
30"
49"
33"
37"
Two Swivel and Two Rigid Casters
3"
White
0000000
000000
0000000
000000
0000000
000000
660
30
54"
34"
30"
55"
35"
38"
Two Swivel and Two Rigid Casters
4"
White
0000000
000000
0000000
000000
0000000
000000

Vinyl-Coated

Nylon Fabric Body and Steel Frame

500
7
30"
20"
21"
31"
21"
26"
Two Swivel and Two Rigid Casters
3"
0000000
000000
0000000
000000
00000000
00000
500
10
34"
22"
23"
35"
23"
29"
Two Swivel and Two Rigid Casters
3"
0000000
000000
0000000
000000
00000000
00000
500
15
36"
26"
28"
37"
27"
34"
Two Swivel and Two Rigid Casters
3"
0000000
000000
0000000
000000
00000000
000000
500
20
40"
28"
30"
41"
29"
37"
Two Swivel and Two Rigid Casters
3"
0000000
000000
0000000
000000
00000000
000000
500
25
48"
32"
30"
49"
33"
37"
Two Swivel and Two Rigid Casters
3"
0000000
000000
0000000
000000
00000000
000000
660
30
54"
34"
30"
55"
35"
38"
Two Swivel and Two Rigid Casters
4"
0000000
000000
0000000
000000
00000000
000000