Food Industry
Cut-Resistant

Conveyor Belting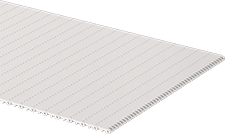 Acetal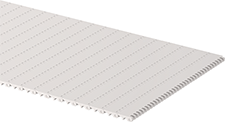 White Polypropylene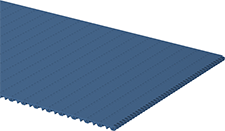 Blue Polypropylene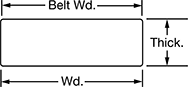 Unlike traditional belt and roller conveyors that mainly move products, this plastic belting creates a hard, cut-resistant work surface—similar to a cutting board—that stands up to food-processing jobs, such as cutting, deboning, and shelling. It's FDA compliant for direct contact with food.
This belting is made of modular plates that flex on their connecting hinges with minimal gaps to reduce bacteria growth. Since it's modular, you can swap out worn plates instead of replacing the entire belt, which is not possible with continuous belts. It is not seamless, however, so it's not often used in the final stages of food processing.
Pair this belting with toothed sprockets (sold separately), which fit into the grooves on the back side of the belt. Compared to belts that rely on friction, these sprocket-driven belts won't slip or require tensioning. This belting is only compatible with Ammeraal Beltech's MPB sprockets.
Acetal belting handles more wear and tear than polypropylene belting, but is not as resistant to some cleaning chemicals or higher temperatures.
Polypropylene belting withstands the chemicals and high temperatures that are used in some cleaning and sanitizing processes. They are not as durable as acetal belting.
For technical drawings and 3-D models, click on a part number.
Belt

Wd.

Lg.,




ft.

Wd.

Thick.

Color
Temperature


Range,

°F

Pin
Material
Specifications Met

Each

Ammeraal Beltech MPB

Acetal Plastic

23

3/4

"
5
23

3/4

"

5/8

"
White
-40° to 190°
Plastic
FDA Compliant 21 CFR 177.2470

0000000
0000000
31

3/4

"
5
31

3/4

"

5/8

"
White
-40° to 190°
Plastic
FDA Compliant 21 CFR 177.2470

0000000
000000

Polypropylene Plastic

23

3/4

"
5
23

3/4

"

5/8

"
White
40° to 210°
Plastic
FDA Compliant 21 CFR 177.1520

0000000
000000
29

3/4

"
5
29

3/4

"

5/8

"
Blue
40° to 210°
Plastic
FDA Compliant 21 CFR 177.1520

0000000
000000