About Roller Chain and Sprockets
Flat Sprockets for Metric Roller Chain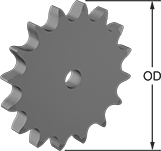 With metric teeth and slim profile, these sprockets allow your ISO roller chain to reach narrow spaces. They're commonly referred to as A-plate sprockets. Machine the unfinished bore to fit your shaft—sprockets come machined to the shaft diameter listed and are machinable up to the maximum shaft diameter size. Sprockets meet DIN 8187 and ISO 606, international standards for sprockets and roller chains.
For technical drawings and 3-D models, click on a part number.
Number
of Teeth
For Shaft


Dia.,

mm
For

Max.

Shaft


Dia.,

mm

OD,


mm
Overall


Wd.,

mm
Material
Specifications Met
Each

For ISO 08B Roller Chain

(12.7 mm Pitch)

12
10
34
55.88
8
Steel
DIN 8187, ISO 606
00000000
000000
High-Power

Metal Bevel Gears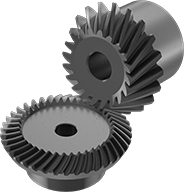 Gear and Pinion Sold Separately
Made from carbon steel with spiral teeth, these gears handle heavier loads at higher speeds than bevel gears with straight teeth because their teeth stay in contact longer. Their teeth engage gradually, which reduces vibration and noise, and they're hardened for extra wear resistance. Use these gears to transmit motion at a right angle while changing shaft speed and torque. They reduce speeds at ratios between 1.5:1 and 4:1. Customize their machinable bore to fit them on a variety of shafts. They're also known as spiral bevel gears.
A complete set consists of a gear and pinion (sold separately). The gear is larger than the pinion, but for them to mesh correctly, they must have the same pressure angle, module, and face width.
Speed ratio is the ratio by which shaft speed is reduced when transferring motion from pinion to gear. To increase shaft speed, transfer motion from gear to pinion. Changing shaft speed also changes torque: as speed decreases, torque increases.
Gears with ground teeth are more precise than gears with teeth that are not ground.
For technical drawings and 3-D models, click on a part number.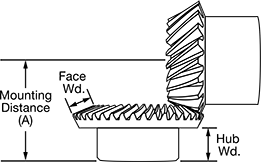 Face


Width,


mm
Pressure
Angle
Speed
Ratio
Number
of
Teeth
Gear
Pitch


Dia.,

mm

OD,


mm
Overall


Width,


mm
For Shaft


Diameter,


mm
Mounting
Distance


(A),

mm
Material

Diameter,


mm

Width,


mm
Each

Machinable Round Bore with Ground Teeth

15
20°
1.5:1
30
75
77.09
33.9
15-34
50
Black-Oxide 1045 Carbon Steel
45
18
0000000
0000000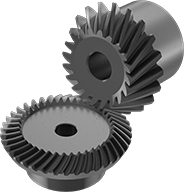 Gear and Pinion Sold Separately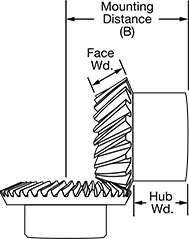 Face


Width,


mm
Pressure
Angle
Speed
Ratio
Number
of
Teeth
Gear
Pitch


Dia.,

mm

OD,


mm
Overall


Width,


mm
For Shaft


Diameter,


mm
Mounting
Distance


(B),

mm
Material

Diameter,


mm

Width,


mm
Each

Machinable Round Bore with Ground Teeth

15
20°
1.5:1
20
50
54.43
30.9
12-22
55
Black-Oxide 1045 Carbon Steel
40
14
0000000
0000000