L Series

Corrosion-Resistant

Timing Belt Pulleys
Pulleys are anodized aluminum, which is more corrosion resistant than steel. All are L series (light) and have trapezoidal teeth. Select a pulley with a maximum belt width that's the same or larger than your timing belt width.
Press-Fit Mount with Set Screw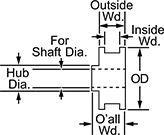 OD
Number
of
Teeth
Pitch
For
Shaft


Dia.

Bore
Type
Inside


Wd.

Outside


Wd.

Overall


Wd.

Pitch


Dia.

Number
of
Flanges
Fabrication
Material
Hub


Dia.

Each
48.41mm
14
9.53mm
12mm
Finished
13.97mm
18.26mm
30.17mm
42.44mm
2
Machined
Anodized Aluminum
31.75mm
0000000
000000
High-Strength

GT Timing Belt Pulleys
For higher speed or higher torque applications, these GT series timing belt pulleys provide a more precise fit than HTD pulleys. Use them where accuracy is critical, such as in storage and retrieval systems or in robotics. Similar to HTD timing belt pulleys, their teeth are curved for high strength. The curved teeth create positive grip engagement with timing belts, so these pulleys do not require re-tensioning—unlike drives using V-belts or sheaves. And unlike chain drives, there's no metal-on-metal contact, so these pulleys don't require lubrication.
Anodized aluminum pulleys are lightweight and resist corrosion. They have a finished bore and come with set screws for mounting on shafts.
For technical drawings and 3-D models, click on a part number.


With Hub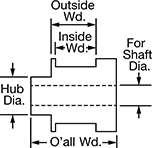 With Hub
Number
of
Teeth

Pitch,


mm
For
Shaft
Diameter
Bore
Type
Inside


Width,


mm
Outside


Width,


mm
Overall


Width,


mm
Pitch


Diameter,


mm
Number
of
Flanges
Fabrication
Material
Hub


Diameter,


mm
Each

For 9 mm Maximum Belt Width

45
3

1/4

"
Finished
10.16
13.46
21.16
42.977
2
Machined
Anodized Aluminum
31.75
00000000
000000
48
3

5/16

"
Finished
__
12.7
22.26
45.807
__
Machined
Anodized Aluminum
31.75
00000000
00000
50
3

5/16

"
Finished
__
12.7
22.26
47.752
__
Machined
Anodized Aluminum
31.75
00000000
00000
56
3

5/16

"
Finished
__
12.7
22.26
53.467
__
Machined
Anodized Aluminum
31.75
00000000
00000
60
3

5/16

"
Finished
__
12.7
22.26
57.302
__
Machined
Anodized Aluminum
31.75
00000000
00000
72
3

5/16

"
Finished
__
12.7
22.26
68.758
__
Machined
Anodized Aluminum
31.75
00000000
00000
80
3

5/16

"
Finished
__
12.7
22.26
76.403
__
Machined
Anodized Aluminum
31.75
00000000
00000
90
3

5/16

"
Finished
__
12.7
22.26
85.954
__
Machined
Anodized Aluminum
31.75
00000000
00000
100
3

5/16

"
Finished
__
12.7
22.26
95.504
__
Machined
Anodized Aluminum
31.75
0000000
00000
120
3

5/16

"
Finished
__
12.7
22.26
114.579
__
Machined
Anodized Aluminum
31.75
00000000
00000