MXL Series

Lightweight Timing Belt Pulleys
Made from polycarbonate, these pulleys are useful in applications with weight constraints. All are MXL series (miniature extra light) and have trapezoidal teeth. The teeth match up with the grooves along the inside diameter of a timing belt in order to move components forward or backward. Select a pulley with a maximum belt width that's the same or larger than your timing belt width.
For technical drawings and 3-D models, click on a part number.

With Hub and One Flange
(10-16 Teeth)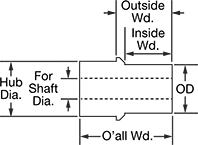 With Hub and One
Flange (10–16 Teeth)
OD
Number
of
Teeth
Pitch
For
Shaft


Dia.

Bore
Type
Inside


Wd.

Outside


Wd.

Overall


Wd.

Pitch


Dia.

Fabrication
Material
Hub


Dia.

Each
0.55"
15
0.080"

1/8

"
Finished
0.25"
0.438"
0.688"
0.382"
Molded
Polycarbonate
0.438"
0000000
00000
Plastic Miter Gears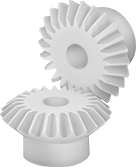 Gears Sold Separately
Connect two shafts at a right angle without changing shaft speed or torque. Made of plastic, these gears run quieter than metal gears and have good corrosion and chemical resistance.
For two gears to mesh correctly, they must have the same pressure angle, pitch/module, and number of teeth.
Nylon gears are self-lubricating, so they're often used in food machinery. However, they're not approved for direct contact with food or chemicals that will come into contact with food.
For technical drawings and 3-D models, click on a part number.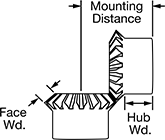 Gear
Pitch

Number
of
Teeth
Pressure
Angle
Gear
Pitch


Dia.

OD
Face


Wd.

Overall


Wd.

For
Shaft


Dia.

Mounting
Distance
Material
Fabrication
Color

Dia.

Wd.

Each

Round Bore

32

16
20°

1/2

"
0.55"
0.11"
0.344"

3/16

"
0.5"
Nylon Plastic
Molded
White
0.406"
0.188"
0000000
00000