Metal Miter Gears

Gears Sold Separately

With Round Bore
With straight, conically shaped teeth and a 1:1 speed ratio, miter gears connect two shafts at an angle without changing shaft speed or torque. They're more efficient than spiral miter gears because they create less friction.
For two gears to mesh correctly, they must have the same pressure angle, shaft angle, pitch/module, and number of teeth.
Carbon steel gears have hard, strong, and wear-resistant teeth. They're best for heavy duty and high-torque applications, such as lifting equipment. However, these gears will rust when exposed to moisture or corrosive chemicals. Some gears have hardened teeth for additional wear resistance; gears with teeth that are not hardened can be hardened to fit your application.
For technical drawings and 3-D models, click on a part number.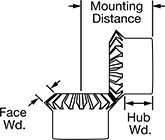 Gear
Pitch

Number
of
Teeth
For
Shaft
Angle
Pressure
Angle
Gear
Pitch


Dia.

OD
Face


Wd.

Overall


Wd.

For
Shaft


Dia.

Mounting
Distance
Teeth
Heat
Treatment

Dia.

Wd.

Each

Round

Bore—

1144 Carbon Steel

20

20
90°
20°
1"
1.07"
0.23"
0.813"

3/8

"
1.125"
Not Hardened
0.75"
0.5"
0000000
000000
High-Power

Metal Miter Gears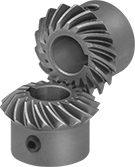 Keyed Bore and Set Screw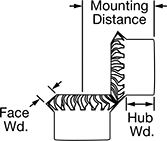 Also known as spiral miter gears, these gears have curved teeth that stay in contact longer than straight teeth so they handle heavier loads at higher speeds. They run quieter than standard miter gears because the teeth gradually engage. Use them to transmit motion at a right angle while maintaining shaft speed and torque. Gears are carbon steel for strength. Teeth are hardened for wear resistance.
Gears must be identical in order to mesh correctly; they're sold as a pair.
For technical drawings and 3-D models, click on a part number.
Gear
Pitch

Number
of
Teeth
Pressure
Angle
Gear
Pitch


Dia.

OD
Face


Wd.

Overall


Wd.

For
Shaft


Dia.

Mounting
Distance
Material

Dia.

Wd.

Wd.

Dp.

Set Screw
Thread
Size

Pair

Keyed Bore with Set Screw

18

18
20°
1"
1.07"
0.22"
0.74"

3/8

"
1.062"
1117 Carbon Steel
0.75"
0.44"
0.094"
0.047"
10-32

000000
0000000