XL Series

Lightweight Timing Belt Pulleys
Acetal and aluminum construction makes these pulleys useful in weight-sensitive applications. All are XL series (extra light) and have trapezoidal teeth. Select a pulley with a maximum belt width that's the same or larger than your timing belt width.
For technical drawings and 3-D models, click on a part number.
Press-Fit Mount with Set Screw

With Two Flanges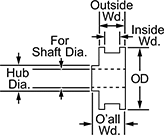 With Two Flanges
OD
Number
of
Teeth
Pitch
For
Shaft


Dia.

Bore
Type
Inside


Wd.

Outside


Wd.

Overall


Wd.

Pitch


Dia.

Number
of
Flanges
Fabrication
Material
Material

Dia.

Each

Inch

1.88"
26
0.200"

5/16

"
Finished
0.5"
0.625"
0.875"
1.655"
2
Molded
Acetal
Aluminum
0.875"
00000000
000000
Metal Gears and Gear
Racks—

14

1/2°

Pressure Angle
A former industry standard, 14½° pressure angle gears are often found on older machinery. Made of carbon steel, they have high strength and are better than plastic gears and gear racks for high-load, high-speed, and heavy duty applications.
Combine gears with different numbers of teeth to change speed and torque in your assembly. Combine a gear and rack to convert rotary motion into linear motion.
For components to mesh correctly, they must have the same pressure angle and pitch.
Gears with machinable bore have a large hub diameter so you can machine them to fit your shaft.
Gears with teeth that are not hardened can be hardened to fit your application. Hardening a gear's teeth increases its wear resistance.
For technical drawings and 3-D models, click on a part number.

Gear with Round or
Round/Machinable
Bore

Gear with Keyed Bore and Set Screw

Gear
Pitch

Number
of
Teeth
Gear
Pitch


Dia.

OD
Face


Wd.

Overall


Wd.

For
Shaft


Dia.

Material
Teeth
Heat
Treatment

Dia.

Wd.

Wd.

Dp.

Set Screw
Thread
Size

Each
16

28
1

3/4

"
1.88"

1/2

"
1"

1/2

"-

7/8

"
1144 Carbon Steel
Not Hardened
1.5"
0.5"
__
__
__
0000000
000000

Keyed Bore with Set Screw

16

28
1

3/4

"
1.88"

1/2

"
1"

1/2

"
1144 Carbon Steel
Not Hardened
1.5"
0.5"
0.125"
0.063"

1/4

"-20

0000000
00000