About Roller Chain and Sprockets
Sprockets for Metric Roller Chain


Designed to meet ISO 606 and DIN 8187 international dimensional standards, these sprockets are for use with compatible ISO and DIN roller chain. They come machined to the shaft diameter size listed and are machinable up to the maximum shaft diameter size.
For technical drawings and 3-D models, click on a part number.
Number
of Teeth
For Shaft


Dia.,

mm
For

Max.

Shaft


Dia.,

mm

OD,


mm
Overall


Wd.,

mm
Hub


Dia.,

mm
Material
Specifications Met
Each

For

DIN,

ISO 08B Roller Chain

(12.7 mm Pitch)

25
14
53
108.2
28
82
Steel
DIN 8187, ISO 606
0000000
000000
Taper-Lock

Bushing-Bore

Sprockets for Metric Roller Chain
While their teeth fit into metric ISO roller chain, these sprockets use taper-lock bushings to grip shafts. That means you can switch to a different diameter shaft by changing the bushing instead of machining the sprocket. Bushings mount flush inside these sprockets; secure them in place by tightening the set screws included with the bushings. These sprockets have an extended hub that makes them more stable and durable than flat sprockets. All meet ISO 606 (formerly DIN 8187), which is an international standard for sprocket and roller chain dimensions and materials.
For technical drawings and 3-D models, click on a part number.
For Single-Strand Roller Chain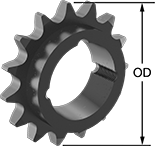 For Single-Strand
Roller Chain

For Single-Strand
Roller Chain
Number
of Teeth
For Bushing
Style

OD,


mm
Overall


Wd.,

mm
Hub


Dia.,

mm
Teeth Heat
Treatment
Material
Specifications Met
Each

For ISO 08B Roller Chain

(12.7 mm Pitch)

25
1610
108.2
25
82
Hardened
Steel
DIN 8187, ISO 606
00000000
000000
For Double-Strand Roller Chain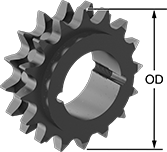 For Double-Strand
Roller Chain

For Double-Strand
Roller Chain
Number
of Teeth
For Bushing
Style

OD,


mm
Overall


Wd.,

mm
Hub


Dia.,

mm
Material
Specifications Met
Each

For ISO

08B-2

Roller Chain

(12.7 mm Pitch)

25
2012
108.2
32
87
Steel
DIN 8187, ISO 606
00000000
0000000