Plastic Miter Gears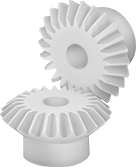 Gears Sold Separately
Connect two shafts at a right angle without changing shaft speed or torque. Made of plastic, these gears run quieter than metal gears and have good corrosion and chemical resistance.
For two gears to mesh correctly, they must have the same pressure angle, pitch/module, and number of teeth.
Acetal gears absorb less moisture than nylon gears and are less prone to dimensional change. They're best suited for use in light duty applications such as prototyping.
For technical drawings and 3-D models, click on a part number.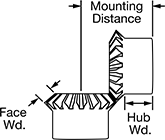 Module

Number
of
Teeth
Pressure
Angle
Gear
Pitch


Dia.

OD,


mm
Face


Wd.,


mm
Overall


Wd.,


mm
For Shaft


Dia.,


mm
Mounting


Distance,


mm
Material
Fabrication
Color

Dia.,


mm

Wd.,


mm
Each

Round Bore

0.8

20
20°
16mm
17.1
3.5
10.8
5
16
Acetal Plastic
Molded
White
12
5
000000
00000