Taper-Lock

Weld-On

Bushing-Bore

Hubs

These weld-on hubs are drilled, tapped, and taper-bored to make any sprocket, pulley, or gear compatible with our Taper-Lock Bushings.
For Bushing
Style
OD
Overall


Wd.

Material
Each
3020
5

1/4

"
2"
Steel
0000000
0000000
Metal Gears and Gear
Racks—

14

1/2°

Pressure Angle
A former industry standard, 14½° pressure angle gears are often found on older machinery. Made of carbon steel, they have high strength and are better than plastic gears and gear racks for high-load, high-speed, and heavy duty applications.
Combine gears with different numbers of teeth to change speed and torque in your assembly. Combine a gear and rack to convert rotary motion into linear motion.
For components to mesh correctly, they must have the same pressure angle and pitch.
Gears with machinable bore have a large hub diameter so you can machine them to fit your shaft.
Gears with teeth that are not hardened can be hardened to fit your application. Hardening a gear's teeth increases its wear resistance.
For technical drawings and 3-D models, click on a part number.

Gear with Round or
Round/Machinable
Bore

Gear
Pitch

Number
of Teeth
Gear
Pitch

Dia.

OD
Face


Wd.

Overall


Wd.

For Shaft


Dia.

Material
Teeth Heat
Treatment

Dia.

Wd.

Each
8

40
5"
5.25"
1

1/4

"
2.25"
1"-1

7/8

"
1144 Carbon Steel
Not Hardened
3"
1"
0000000
0000000
Vibration-Damping

Flexible Shaft Couplings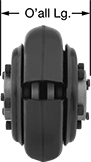 Components of a
Coupling Shown
Assembled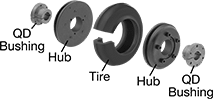 (Each
Component Sold
Separately)
A flexible tire on these couplings safeguards components on your shafts by reducing vibration and shock.
A complete coupling consists of two hubs, one tire, and two quick-disconnect bushings.
Quick-disconnect bushings are easy to install and remove. Tighten their cap screws to secure them to your shafts. For information on quick-disconnect bushing styles, see Quick-Disconnect (QD) Bushings.
For technical drawings and 3-D models, click on a part number.
Quick-Disconnect

(QD)

Bushings

O'all




Lg.

OD
For
Motion
Type
Each

Max.




Speed,


rpm

Max.




Torque,




in.-lbs.

Parallel
Angular
Axial

Temp.




Range,




°F

Each
Bushing
Style
For
Shaft


Dia.

Each
3

1/4

"
5

1/4

"
Continuous
0000000
000000
4,500
900
0.125"
4°
0.313"
-65° to 180°
0000000
000000
JA
0000000
000000