L Series

Corrosion-Resistant

Timing Belt Pulleys
Pulleys are anodized aluminum, which is more corrosion resistant than steel. All are L series (light) and have trapezoidal teeth. Select a pulley with a maximum belt width that's the same or larger than your timing belt width.
Press-Fit Mount with Set Screw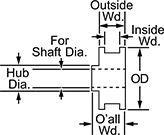 OD
Number
of
Teeth
Pitch
For
Shaft


Dia.

Bore
Type
Inside


Wd.

Outside


Wd.

Overall


Wd.

Pitch


Dia.

Number
of
Flanges
Fabrication
Material
Hub


Dia.

Each
53.98mm
16
9.53mm
14mm
Finished
13.97mm
18.26mm
31.75mm
48.51mm
2
Machined
Anodized Aluminum
34.92mm
0000000
000000
High-Strength

Corrosion-Resistant

HTD Timing Belt Pulleys
Move belts forward and backward or stop and start them in precise positions, especially in areas where rust is a concern. The curved teeth on these high-torque drive (HTD) pulleys have more surface contact with belts than traditional trapezoidal teeth, which allows you to apply more torque without damaging belts. These teeth fit together seamlessly to prevent backlash, or unwanted movement of the belt on the pulley, for a smooth, quiet cycle. These pulleys are often used in 3D printing, machine tool drives, robotics, and other applications where precision is essential. They are also known as curvilinear belt pulleys.
Pair pulleys with an HTD timing belt that has the same pitch. The width of your belt should not be larger than the maximum belt width listed.
Stainless steel pulleys can be wetted repeatedly without rusting or staining.
For technical drawings and 3-D models, click on a part number.
Stainless Steel—Press-Fit Mount


OD,


mm
Number
of Teeth

Pitch,


mm
For Shaft


Dia.

Bore
Type
Inside


Wd.,


mm
Outside


Wd.,


mm
Overall


Wd.,


mm
Pitch


Dia.,


mm
Number
of
Flanges
Fabrication
Hub


Dia.,


mm
Each
53.98
32
5

1/2

"
Plain
17.78
21.34
47.63
49.784
2
Machined
39.37
0000000
0000000