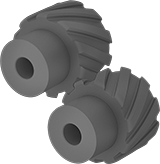 Crossed
Right-Hand
Gear and Crossed
Left-Hand
Gear
(Sold Separately)

Gear with
Left-Hand
Teeth

Gear with
Right-Hand
Teeth


Transmitting loads at higher speeds than spur gears in environments where rusting and exposure to chemicals is a concern, these plastic gears have helical teeth, which stay in contact longer than straight teeth. They're often called screw or crossed-helical gears. Made of plastic, they're self-lubricating, so you can use them in food machinery as long as they don't touch food or food-processing chemicals. Compared to metal gears, they make less noise, but are weaker, more likely to warp, and retain more heat.
For gears to mesh correctly, they must have the same pressure angle, helix angle, and module. Paired together—or even with metal gears—these gears transmit motion in a straight line or at a 90° angle. Use one left-hand and one right-hand gear for straight-line motion, or two gears with the same tooth direction for a 90° angle. To change speed and torque in your assembly, combine two gears with different numbers of teeth.
For technical drawings and 3-D models, click on a part number.
Module
Number
of Teeth
Helix
Angle
Gear Pitch


Dia.,

mm

OD,


mm
Face


Wd.,

mm
Overall


Wd,

mm
For Shaft


Dia.,

mm
Fabrication
Color

Dia.,


mm

Wd.,


mm
Each

Left Hand

Metric Crossed

Gears—

20°

Pressure Angle

2
20
45°
57
60.6
20
35
12
Machined
Blue
45
15
0000000
000000

Right Hand

Metric Crossed

Gears—

20°

Pressure Angle

2
20
45°
57
60.6
20
35
12
Machined
Blue
45
15
0000000
00000