About Roller Chain and Sprockets
Sprockets for Metric Roller Chain


Designed to meet ISO 606 and DIN 8187 international dimensional standards, these sprockets are for use with compatible ISO and DIN roller chain. They come machined to the shaft diameter size listed and are machinable up to the maximum shaft diameter size.
For technical drawings and 3-D models, click on a part number.
Number
of Teeth
For Shaft


Dia.,

mm
For

Max.

Shaft


Dia.,

mm

OD,


mm
Overall


Wd.,

mm
Hub


Dia.,

mm
Material
Specifications Met
Each

For

DIN,

ISO 06B Roller Chain

(9.53 mm Pitch)

26
12
38
83
28
60
Steel
DIN 8187, ISO 606
0000000
000000
XL Series

Lightweight Timing Belt Pulleys
Acetal and aluminum construction makes these pulleys useful in weight-sensitive applications. All are XL series (extra light) and have trapezoidal teeth. Select a pulley with a maximum belt width that's the same or larger than your timing belt width.
Press-Fit Mount with Set Screw

With Two Flanges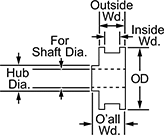 With Two Flanges
OD
Number
of
Teeth
Pitch
For
Shaft


Dia.

Bore
Type
Inside


Wd.

Outside


Wd.

Overall


Wd.

Pitch


Dia.

Number
of
Flanges
Fabrication
Material
Material

Dia.

Each

Metric

83mm
48
5.000mm
12mm
Finished
13mm
16mm
22mm
77.62mm
2
Molded
Acetal
Aluminum
13mm
0000000
000000
Metal Worms and Worm Gears

Worm and Gear Sold Separately
Worm gears use screw threads to make large reductions to shaft speed while transmitting motion at a right angle. They transmit motion from worm to gear and cannot be reversed. For gears and worms to mesh correctly, they must have the same pressure angle and pitch/module. These worms are compatible with plastic worm gears.
Speed ratio is the ratio by which output shaft speed is reduced. As speed decreases, torque increases.
Cast iron gears are strong and durable.
For technical drawings and 3-D models, click on a part number.

Gear


Module
Speed
Ratio
Number
of
Teeth
Pressure
Angle
Gear Pitch


Dia.,


mm
For Number
of Thread
Starts

OD,


mm
Face


Wd.,


mm
Overall


Wd.,


mm
For Shaft


Dia.,


mm

Dia.,


mm

Wd.,


mm
Material
For
Thread
Direction
Teeth
Heat
Treatment
Teeth
Fabrication
Each
1
80:1
80
20°
80
1
83
10
20
10
35
10
Cast Iron
Right Hand

Not Hardened
Not Ground
000000000
000000