XL Series

Lightweight Timing Belt Pulleys
Acetal and aluminum construction makes these pulleys useful in weight-sensitive applications. All are XL series (extra light) and have trapezoidal teeth. Select a pulley with a maximum belt width that's the same or larger than your timing belt width.
Press-Fit Mount with Set Screw

Without Flanges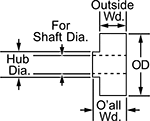 Without Flanges
OD
Number
of
Teeth
Pitch
For
Shaft


Dia.

Bore
Type
Outside


Wd.

Overall


Wd.

Pitch


Dia.

Fabrication
Material
Material

Dia.

Each

Metric

97mm
60
5.000mm
12mm
Finished
13mm
22mm
97.03mm
Molded
Acetal
Aluminum
13mm
0000000
000000
Plastic Gears and Gear
Racks—

20°

Pressure Angle
The current industry standard, these 20° pressure angle gears have thicker, stronger teeth than 14½° pressure angle gears. Made of plastic, they run quieter than metal gears and have good corrosion and chemical resistance. They're also known as spur gears.
Combine gears with different numbers of teeth to change speed and torque in your assembly. Combine a gear and rack to convert rotary motion into linear motion.
For components to mesh correctly, they must have the same pressure angle and pitch/module.
Nylon gears can be operated without lubrication, so they're commonly used in food-processing machines.
For technical drawings and 3-D models, click on a part number.

Round Bore


Module
Number
of
Teeth
Gear Pitch


Dia.,


mm

OD,


mm
Face


Wd.,


mm
Overall


Wd.,


mm
For Shaft


Dia.,


mm
Material
Fabrication
Color

Dia.,


mm

Wd.,


mm
Each

Round Bore

1
95
95
97
10
20
10
Nylon Plastic
Machined
Blue
40
10
00000000
000000