Rubber Bands

Rubber Band
Trade Size

Wd.

Lg.

Color

Pkg.




Qty.

Pkg.

Natural Rubber

10

1/16

"
1

1/4

"
Beige
5,300
00000000
000000
12

1/16

"
1

3/4

"
Beige
3,850
00000000
00000
14

1/16

"
2"
Beige
3,380
00000000
00000
16

1/16

"
2

1/2

"
Beige
2,675
00000000
00000
18

1/16

"
3"
Beige
2,205
00000000
00000
19

1/16

"
3

1/2

"
Beige
1,890
00000000
00000
30

1/8

"
2"
Beige
1,770
00000000
00000
31

1/8

"
2

1/2

"
Beige
1,330
00000000
00000
32

1/8

"
3"
Beige
1,100
00000000
00000
33

1/8

"
3

1/2

"
Beige
970
00000000
00000
64

1/4

"
3

1/2

"
Beige
490
00000000
00000
73

3/8

"
3"
Beige
360
00000000
00000
74

3/8

"
3

1/2

"
Beige
320
00000000
00000
82

1/2

"
2

1/2

"
Beige
320
00000000
00000
84

1/2

"
3

1/2

"
Beige
240
00000000
00000
105

5/8

"
5"
Beige
95
00000000
00000
107

5/8

"
7"
Beige
60
00000000
00000
117A

1/16

"
7"
Beige
600
00000000
00000
117B

1/8

"
7"
Beige
300
00000000
00000
117B

1/8

"
7"
Red
180
00000000
0000
142

1/8

"
8

1/2

"
Red
120
00000000
0000

Synthetic Rubber

19

1/16

"
3

1/2

"
Orange
1,440
00000000
00000
33

1/8

"
3

1/2

"
Orange
720
00000000
00000
64

1/4

"
3

1/2

"
Orange
380
00000000
00000
117B

1/8

"
7"
Orange
250
00000000
00000
Bulldog Clips

Clip

Clip with Magnet
Secure small objects with these clips.
304 stainless steel clips resist sprays of water, chemicals, and cleaners from nearby washdowns, so they're often used in sanitary environments.
Mount these clips with the adhesive backing, then post paper and notes between the two vinyl-covered magnets.
Color
For

Max.

No.


of Sheets
For

Max.




Thick.

Lg.

Wd.

Backing
Type
Each
White
5
0.02"
4"
1"
Adhesive
000000000
00000
Metal-Detectable

Rubber Bands

Bundle products in food plants while reducing the chance of contaminating the food. Made of natural rubber with metal additives, these rubber bands will set off metal detectors to help you comply with Hazard Analysis and Critical Control Point (HACCP) programs. They're also bright blue, making it easy to spot any broken pieces that may fall into your line. These rubber bands have a higher tensile strength and lower odor than synthetic rubber bands.
Fabric-Wall-Mount

Clear File Holders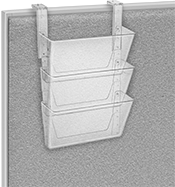 Hang and organize folders on cubicle walls. These file holders have adjustable partition brackets to fit to a variety of walls. They are see-through so you can view contents from any angle.
Number of
Compartments

Ht.

Wd.

Features
Color
Material
Each

Hanging

3
19"
13"
Two Partition Brackets
Clear
Plastic
0000000
000000