Create-Your-Own

Workholders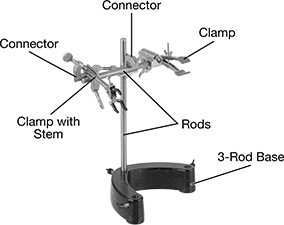 Build a custom clamping system for holding lightweight objects such as beakers and laboratory equipment. First choose a base, and then add rods, connectors, and clamps.
Stainless steel components provide excellent corrosion resistance.
Rod-to-rod connector holds two rods at a 90° angle.
Suspension Arms for Enclosures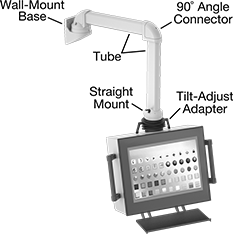 All Components
Sold Separately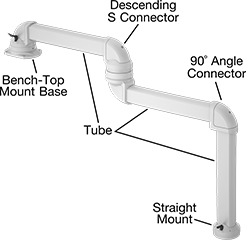 Example Configuration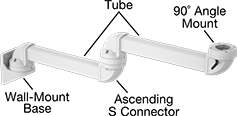 Example Configuration
Hang your human-machine interface and swivel it around to save floor space and comfortably access touch screens, buttons, and other operating equipment. These suspension arms have already-drilled mounting holes that match our HMI enclosures. Route wire from your HMI components to a machine through a hole that runs through the entire arm. To prevent them from swinging too far and hitting people and equipment, locking pins let you restrict how far these arms rotate. Brakes lock their position into place.
Customize a system for your application—you can create hundreds of different variations. A complete suspension arm requires at least a base, a tube, and a mount. Add components to extend your arm up to 80" from the base and expand its range of motion. Arms without a connector support up to 180 lbs. Those with a connector support up to 135 lbs., but the load it can hold decreases by 2 lbs. for every 1" over 40" from the base.
Connectors join tubes. Those that rotate create a joint that swivels.
For technical drawings and 3-D models, click on a part number.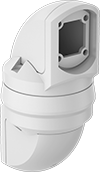 Adjustability
Height
Width
Height
Width
Depth
Material
Color
Mounting
Fasteners
Included
Rotation
Range
of Motion
Features
Each
__
3

1/2

"
2

1/2

"
5

1/8

"
3

1/4

"
5

1/8

"
Powder-Coated Aluminum
White
Yes
__
Cable Routing Hole
0000000
0000000
Rotate
3

1/2

"
2

1/2

"
11

1/2

"
5

3/8

"
6"
Powder-Coated Aluminum
White
Yes
310°
Cable Routing Hole, Locking Pins, Swivels
0000000
000000
Rotate
3

1/2

"
2

1/2

"
12

3/8

"
5

3/8

"
6"
Powder-Coated Aluminum
White
Yes
310°
Cable Routing Hole, Locking Pins, Swivels
0000000
000000