Fixturing Tables
Add components such as clamps, brackets, stops, rests, mounting plates, fixturing squares, risers, and V-blocks to build fixtures for welding and assembly.
For technical drawings and 3-D models, click on a part number.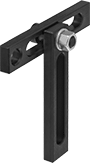 Fastener and Straightedge Stops

Shoulder Screw Fastener

Fasteners connect components to each other or to the table.
Shoulder


Lg.

Size

Lg.

Dia.

Ht.

Lg.

Size
Style
Material
Includes

Pkg.




Qty.

Each

Shoulder

Screw—

5/8"

Shoulder

Dia.

(-0.001" to 0")

1/2

"

1/2

"-13

3/4

"

7/8

"

3/8

"
__

5/16

"
Hex

Black-Oxide Steel
Nut, Washer
__
0000000
00000

3/4

"

1/2

"-13

3/4

"

7/8

"

3/8

"
__

5/16

"
Hex

Black-Oxide Steel
Nut, Washer
__
0000000
0000

7/8

"

1/2

"-13

3/4

"

7/8

"

3/8

"
__

5/16

"
Hex

Black-Oxide Steel
Nut, Washer
__
0000000
0000
1"

1/2

"-13

3/4

"

7/8

"

3/8

"
__

5/16

"
Hex

Black-Oxide Steel
Nut, Washer
__
0000000
0000
1

1/4

"

1/2

"-13

3/4

"

7/8

"

3/8

"
__

5/16

"
Hex

Black-Oxide Steel
Nut, Washer
__
0000000
0000

Ball-Lock

Screw—

5/8"

Stud

Dia.

__
__
__

7/8

"
__

7/8

"-1

1/8

"

1/4

"
Hex

Steel
__
__
0000000
00000

Pkg.

__
__
__

7/8

"
__

7/8

"-1

1/8

"

1/4

"
Hex

Steel
__
12
0000000
000000