Number of Mounting Holes

Number of Mounting Holes
Mounting Hole Diameter

Mounting Hole Diameter
Mounting Hardware Included

Mounting Hardware Included
REACH (Registration, Evaluation, Authorization and Restriction of Chemicals)

REACH

(Registration,




Evaluation,

Authorization
and Restriction of

Chemicals)
RoHS (Restriction of Hazardous Substances)

RoHS

(Restriction

of
Hazardous

Substances)
Assembled or Unassembled

Assembled or Unassembled
DFARS (Defense Acquisition Regulations Supplement)

DFARS

(Defense

Acquisition

Regulations

Supplement)
Nonconductive
Build-Your-Own

Fixed Work Platforms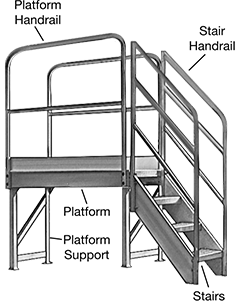 Shown Assembled

These platforms are nonconductive fiberglass. Configure them to fit your application. For good slip resistance, platforms are perforated and stairs are grit coated.
First, determine how high your work platform needs to be and choose the stairs that accommodate that height. Then, choose a platform section based on the desired length. Next, choose platform supports that correspond to the height of your stairs—each end of the platform must be supported by a platform support. Finally, choose handrails for the stairs and platform. Assembled work platforms should be secured to a supporting surface (mounting hardware not included).
Platform supports are required at each end of a platform section. Supports must be used every 60", so 120" long platform sections also require a support in the middle.
Note: Work platforms meet OSHA dimensional standards. Users are responsible for checking local, state, and federal codes, including OSHA, for safe installation and operating practices.
For
Platform

Ht.

Color
Assembled or
Unassembled
Mounting
Hardware
Included

No.


of

Dia.

Includes
Each

Fiberglass

18"
Gray
Unassembled
No
2

9/16

"
2 Mounting Brackets, 2 Platform Support Legs
0000000
0000000
27"
Gray
Unassembled
No
2

9/16

"
2 Mounting Brackets, 2 Platform Support Legs
0000000
000000
36"
Gray
Unassembled
No
2

9/16

"
2 Mounting Brackets, 2 Platform Support Legs
0000000
000000
45"
Gray
Unassembled
No
2

9/16

"
2 Mounting Brackets, 2 Platform Support Legs
0000000
000000
54"
Gray
Unassembled
No
2

9/16

"
2 Mounting Brackets, 2 Platform Support Legs
0000000
000000
63"
Gray
Unassembled
No
2

9/16

"
2 Mounting Brackets, 2 Platform Support Legs
0000000
000000
72"
Gray
Unassembled
No
2

9/16

"
2 Mounting Brackets, 2 Platform Support Legs
0000000
000000
81"
Gray
Unassembled
No
2

9/16

"
2 Mounting Brackets, 2 Platform Support Legs
0000000
000000