Water-Activated

Lens Cleaning Wipes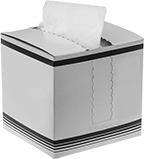 Add water to these wipes before cleaning.
Number
of Wipes
Solution Type
Features
Each
1,000
Silicone Free
Antifog/Antistatic
0000000
000000
Cleaning Kits for Optical Equipment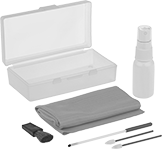 Wipe oils, dust, and other particles off sensitive optical devices such as lenses, mirrors, solar cells, laser hardware, and scientific instruments. Kits come with 1 oz. of cleaning fluid, a lint-free cloth, application swabs, and an application brush. Fluid is solvent based, so it dries quickly and won't leave a residue. The cloth eliminates static cling to help prevent dust and dirt buildup after cleaning.
| | | | | | | |
| --- | --- | --- | --- | --- | --- | --- |
| Includes | Composition | Harshness | For Use On | For Removing | | Each |
| Application Brushes, Application Swabs, 1 oz. Spray Bottle of Cleaning Fluid, Lint-Free Cloth (10" x 18") | Solvent Based | Moderate | Glass, Painted Surfaces, Plastic | Dust, Grease/Oil | 0000000 | 000000 |