Back Supports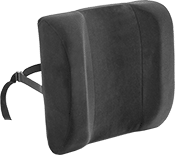 Promote good posture and reduce back strain by adding a back support to a stool or chair. An adjustable strap holds these supports in place. They have foam padding for comfort and a removable fabric cover that can be washed.
Wd.

Ht.

Thick.

Material
Padding
Material
Features
Each
13"
13"
4"
Black Fabric
Foam
26 1/2"-Lg. Adjustable Strap
00000000
000000
Seat Cushions

Round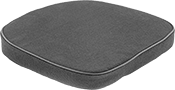 Rectangular
Make any hard seat more comfortable with these foam-padded cushions.
Round cushions have elastic banding that stretches over the seat to hold the cushion in place.
Rectangular cushions have an adjustable strap to keep them in place.
Footrests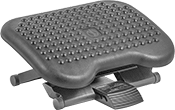 Plastic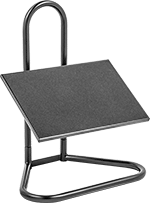 Steel
Maintain good circulation by keeping your legs at a 90° angle with these tiltable, adjustable-height footrests.
Plastic footrests have a nonskid base to keep them in place. The textured platform keeps your feet from sliding.
Steel footrests are more durable than plastic. They adjust from 3" to 16" high for use with chairs and high stools. The rubber platform prevents your feet from slipping.