Tablet Holders with Emergency Stop
Push-Button

Switch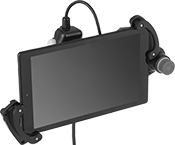 Holder with Tablet Installed
(Not Included)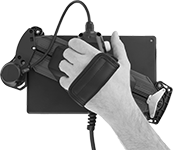 Pivoting Handle
(Back View)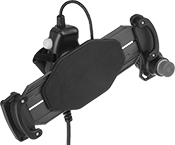 Holder

Bracket Adjustment Kit
Halt machinery in an instant with these tablet holders. They equip your tablet with safety switches that meet IEC and EN standards, so you can safely move around your equipment while teaching robots or monitoring production lines and conveyor systems.
The emergency stop switch on the front of the holder illuminates when the switch is enabled. There is also a deadman switch on the back of the holder that controls machinery when you lightly press and hold it in the middle position. If the switch is released or pressed down all the way, it stops the machine.
Pivot the handle to hold a tablet vertically or horizontally, while keeping the switches in a comfortable position for either hand. The adjustable mounting bracket secures a variety of tablet sizes. Connect your tablet to the USB port to charge during use.
Bracket adjustment kits enlarge the bracket to hold tablets with thick covers and protectors.
For technical drawings and 3-D models, click on a part number.