Size
Overall


Lg.

Material
Finish
Specifications
Met
Each

5/16

"
4

1/4

"
Steel
Black
ASME B107
0000000
000000

3/8

"
4

1/2

"
Steel
Black
ASME B107
0000000
00000

7/16

"
4

7/8

"
Steel
Black
ASME B107
0000000
00000

1/2

"
5

1/4

"
Steel
Black
ASME B107
0000000
00000

9/16

"
5

3/4

"
Steel
Black
ASME B107
0000000
00000

5/8

"
6

1/8

"
Steel
Black
ASME B107
0000000
00000

11/16

"
6

1/2

"
Steel
Black
ASME B107
0000000
00000

3/4

"
6

1/2

"
Steel
Black
ASME B107
0000000
00000

3/16

"
4

1/4

"
Steel
Black
ASME B107
0000000
00000

1/4

"
4

1/4

"
Steel
Black
ASME B107
0000000
00000

5/16

"
4

1/2

"
Steel
Black
ASME B107
0000000
00000

3/8

"
4

7/8

"
Steel
Black
ASME B107
0000000
00000

7/16

"
5

3/4

"
Steel
Black
ASME B107
0000000
00000

1/2

"
6

1/8

"
Steel
Black
ASME B107
0000000
00000

9/16

"
6

1/2

"
Steel
Black
ASME B107
0000000
00000

5/8

"
7"
Steel
Black
ASME B107
0000000
00000

3/4

"
7

3/8

"
Steel
Black
ASME B107
0000000
00000
Ratcheting
Screwdriver-Style

Socket Handles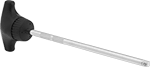 The ratcheting mechanism turns sockets quickly.
Overall
Length
Material
Grip
Material
Each
10"
Chrome-Plated Steel
Plastic
00000000
0000000
T-Handle

Slip-Release

Factory-Set

Torque Wrenches

Turn sockets from above when there's not room to swing a standard wrench handle. The wrench slips to disengage and stop turning the fastener, preventing overtightening. Factory-set wrenches ensure the same torque is reached every time. The torque setting cannot be adjusted. Wrenches come with a calibration certificate traceable to NIST that states the product has passed a test for accuracy.
For technical drawings and 3-D models, click on a part number.

Square
Drive Size
Available Torque


Settings,

in.-lbs.

Clockwise
Counterclockwise

O'all




Lg.

Material
Each

Nonratcheting

1/4

"
2 to 80
±4%
__
3

1/2

"
Chrome-Plated Steel
00000000
0000000

1/4

"
2 to 80
±4%
±4%
3

1/2

"
Chrome-Plated Steel
00000000
000000

3/8

"
2 to 80
±4%
__
3

1/2

"
Chrome-Plated Steel
00000000
000000

3/8

"
2 to 80
±4%
±4%
3

1/2

"
Chrome-Plated Steel
00000000
000000

3/8

"
50 to 250
±4%
±4%
5

3/8

"
Chrome-Plated Steel
00000000
000000

Ratcheting

1/4

"
2 to 50
±4%
__
3

3/8

"
Chrome-Plated Steel
00000000
000000

3/8

"
2 to 80
±4%
__
3

1/2

"
Chrome-Plated Steel
00000000
000000

3/8

"
50 to 250
±4%
__
5

3/8

"
Chrome-Plated Steel
00000000
000000

Square
Drive Size
Available Torque


Settings,

ft.-lbs.

Clockwise
Counterclockwise

O'all




Lg.

Material
Each

Nonratcheting

1/4

"
0.2 to 6.6
±4%
__
3

1/2

"
Chrome-Plated Steel
00000000
0000000

1/4

"
0.2 to 6.6
±4%
±4%
3

1/2

"
Chrome-Plated Steel
00000000
000000

3/8

"
0.2 to 6.6
±4%
__
3

1/2

"
Chrome-Plated Steel
00000000
000000

3/8

"
0.2 to 6.6
±4%
±4%
3

1/2

"
Chrome-Plated Steel
00000000
000000

3/8

"
4.2 to 20.8
±4%
±4%
5

3/8

"
Chrome-Plated Steel
00000000
000000

Ratcheting

1/4

"
0.2 to 4.1
±4%
__
3

3/8

"
Chrome-Plated Steel
00000000
000000

3/8

"
0.2 to 6.6
±4%
__
3

1/2

"
Chrome-Plated Steel
00000000
000000

3/8

"
4.2 to 20.8
±4%
__
5

3/8

"
Chrome-Plated Steel
00000000
000000

Square
Drive Size
Available Torque


Settings,

Nm
Clockwise
Counterclockwise

O'all




Lg.

Material
Each

Nonratcheting

1/4

"
0.3 to 9
±4%
__
3

1/2

"
Chrome-Plated Steel
00000000
0000000

1/4

"
0.3 to 9
±4%
±4%
3

1/2

"
Chrome-Plated Steel
00000000
000000

3/8

"
0.3 to 9
±4%
__
3

1/2

"
Chrome-Plated Steel
00000000
000000

3/8

"
0.3 to 9
±4%
±4%
3

1/2

"
Chrome-Plated Steel
00000000
000000

3/8

"
5.7 to 28.2
±4%
±4%
5

3/8

"
Chrome-Plated Steel
00000000
000000

Ratcheting

1/4

"
0.3 to 5.6
±4%
__
3

3/8

"
Chrome-Plated Steel
00000000
000000

3/8

"
0.3 to 9
±4%
__
3

1/2

"
Chrome-Plated Steel
00000000
000000

3/8

"
5.7 to 28.2
±4%
__
5

3/8

"
Chrome-Plated Steel
00000000
000000