Drawers for Workbenches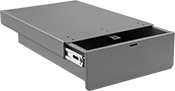 Steel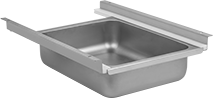 Stainless Steel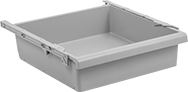 Plastic
Drawers with a keyed lock include a tray for small items.
Stainless steel drawers meet NSF/ANSI 2 for use with food.
Plastic drawers are dent and rust resistant.
Design-Your-Own

Stackable Drawers for Workbenches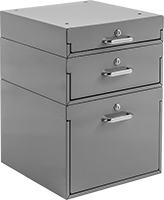 Keyed Drawers Stacked Three High
Stack these drawers under a workbench. You can stack drawers with different heights as long as they have the same width and depth.
Wd.

Dp.

Ht.

Cap.,




lbs.

Color
Gauge

Wd.

Dp.

Ht.

Type
Material
Lock
Included

No.

of
Keys
Included

Mtg.


Fasteners
Included
Each

Keyed

Painted Steel

15

1/2

"
16

1/2

"
3

3/4

"
75
Gray
18
14"
16"
3"
Ball Bearing
Steel
Yes
2
Yes
0000000
0000000
15

1/2

"
16

1/2

"
5

3/4

"
75
Gray
18
14"
16"
5"
Ball Bearing
Steel
Yes
2
Yes
0000000
000000
15

1/2

"
16

1/2

"
11

3/4

"
75
Gray
18
14"
16"
11"
Ball Bearing
Steel
Yes
2
Yes
0000000
000000
15

1/2

"
23

1/2

"
3

3/4

"
75
Gray
18
14"
23"
3"
Ball Bearing
Steel
Yes
2
Yes
0000000
000000
15

1/2

"
23

1/2

"
5

3/4

"
75
Gray
18
14"
23"
5"
Ball Bearing
Steel
Yes
2
Yes
0000000
000000
15

1/2

"
23

1/2

"
11

3/4

"
75
Gray
18
14"
23"
11"
Ball Bearing
Steel
Yes
2
Yes
0000000
000000
Low-Profile

Organizing Drawers for Workbenches

Wd.

Dp.

Ht.

Cap.,




lbs.

Color

Wd.

Dp.

Ht.

Type
Material

Mtg.

Fasteners
Included
Each

Plastic

23

1/4

"
29"
2"
65
Black
20

1/2

"
15"
1

3/4

"
Ball Bearing
Steel
Yes
0000000
000000