Air-Powered

Container-Mount

Grease Dispensers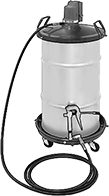 A

Dispense from your drum or pail of grease using compressed air. Dispensers include a follower plate that moves down the inside of the container as the grease level drops to compress the grease and prevent vapor pockets. Containers not included.
Dispensers deliver grease at the same pressure as your existing grease system, up to the max. grease outlet pressure. Dispensers with a booster gun allow you to increase the pressure to the value listed for max. grease outlet pressure with booster.
Styles A-D have a Z-swivel that connects the outlet hose to the gun and prevents the hose from kinking.

B
Replacement
Follower Plates

Style

Max.




Dia.

Max.




Ht.

Flow


Rate,




oz./min.

For NLGI
Viscosity
Grade

Max.


Grease Outlet


Pressure,

psi

Max.

Grease
Outlet Pressure
with

Booster,

psi
Grease
Outlet
Hose

Lg.,

ft.

Material

Max.




Pressure,


psi
Thread
Type
Pipe
Size

Gender
Each
Each

With Booster Gun

A
12

3/16

"
12

13/16

"
16
00, 0, 1, 2
7,500
10,000
13
Steel
150
NPT

1/4

Female
0000000
000000000
0000000
000000
B
12"
16

9/16

"
64
00, 0, 1, 2
7,500
10,000
10
Steel
150
NPT

1/4

Female
00000000
00000000
0000000
00000

With Standard Gun

B
12"
16

9/16

"
32
00, 0, 1, 2
7,500
__
10
Steel
150
NPTF

1/4

Female
0000000
00000000
0000000
00000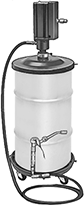 C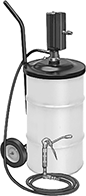 D
Replacement
Follower Plates

Style

Max.




Dia.

Max.




Ht.

Flow


Rate,




oz./min.

For NLGI
Viscosity
Grade

Max.


Grease Outlet


Pressure,

psi

Max.

Grease
Outlet Pressure
with

Booster,

psi
Grease
Outlet
Hose

Lg.,

ft.

Material

Max.




Pressure,


psi
Thread
Type
Pipe
Size

Gender
Each
Each

With Booster Gun

A
15

15/16

"
26"
16
00, 0, 1, 2
7,500
10,000
13
Steel
150
NPT

1/4

Female
0000000
000000000
0000000
0000000
C
14

7/8

"
27

1/4

"
64
00, 0, 1, 2
7,500
10,000
10
Steel
150
NPT

1/4

Female
00000000
00000000
0000000
000000
D
14

7/8

"
27

1/4

"
64
00, 0, 1, 2
7,500
10,000
10
Steel
150
NPT

1/4

Female
00000000
00000000
0000000
000000

With Standard Gun

C
14

7/8

"
27

1/4

"
32
00, 0, 1, 2
7,500
__
10
Steel
150
NPTF

1/4

Female
0000000
00000000
0000000
000000
D
14

7/8

"
27

1/4

"
32
00, 0, 1, 2
7,500
__
10
Steel
150
NPTF

1/4

Female
0000000
00000000
0000000
000000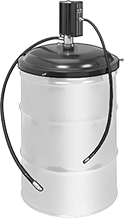 E
Style

Max.




Dia.

Max.




Ht.

Flow


Rate,




oz./min.

For NLGI
Viscosity
Grade

Max.


Grease Outlet


Pressure,

psi
Hose


Lg.,




ft.

Thread
Type
Pipe
Size

Gender
Material

Max.




Pressure,


psi
Hose


Lg.




ft.

Thread
Type
Pipe
Size

Gender
Each
E
23

5/8

"
36

13/16

"
64
00, 0, 1, 2
7,500
4
NPT

3/8

Male
Steel
150
3
NPT

1/4

Female
00000000
000000000