Easy-Pour

Electric Melting Pots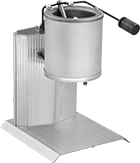 Place a mold under the raised pot and open the drain to fill. Use these pots to melt coatings, adhesives, waxes, tar, and alloys with low melting points. They have an internal heating element that ensures fast and even heat transfer. Stir contents periodically to prevent damage to the inside of the pot.
240V AC melting pot is hardwire and requires a NEMA plug (sold separately).