Electric Sprayers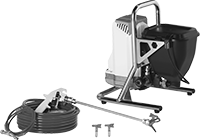 No hand pumping necessary—use these electric-powered sprayers to disinfect surfaces and equipment in bathrooms, schools, gyms, and worksites. Fill them with liquid disinfectants that kill bacteria, viruses, and other germs that cause disease. They even work with alcohol-based chemicals because their motor doesn't produce sparks. However, do not use these sprayers with oil-based products. They're light enough to spray using only one hand and they come with three nozzles, all of which emit a mist of disinfectant, but in different volumes and widths. You can also adjust the sprayer's flow rate to avoid overuse.
To disinfect multiple areas without unplugging and moving these sprayers, they come with a 50 ft. long extension hose. There's also a more flexible 4.5 ft. long hose that's easier to control when spraying at high flow rates. Use the 15 ft. long extension wand to access hard-to-reach areas and spray from a distance, which helps reduce exposure to hazardous chemicals. When you need to move these sprayers to a new location, carry them using their handle.
Note: The material of the parts can affect a sprayer's compatibility with a chemical or solution. Make sure that all parts of the sprayer are suitable for your application.
Cap.,




gal.

Ht.

Wd.

Dp.

Max.

Flow


Rate,


gpm
Operating


Pressure,


psi
Tank
Material
Color
Hose


Lg.

Wd.

Dp.

Cord


Lg.,




ft.

Includes
Each

Flat Dispensing

1

1/2

19

5/8

"
13

1/2

"
20

1/4

"
0.5
0 - 1,000
Polyethylene Plastic
Black
4.5 ft., 50 ft.
8"
9"
6

1/2

0.015" Dia. Nozzle, 0.017" Dia. Nozzle, 0.019" Dia. Nozzle, 15" Spray Extension Wand
0000000
000000000