Food Industry Stainless Steel Drums
In addition to being corrosion resistant, these drums have smooth, welded seams to prevent food and chemicals from collecting in crevices.
Closed-head drums have a lid that's permanently sealed, so the only way to access the contents inside is through the two lid openings. They're often used to hold wine and other liquids because they're less likely to leak or spill than open-head drums. All are UN compliant for shipping.
Drums with a reinforced top rim are strengthened with a rod.
Drums with a protective bottom ring minimize wear and tear when sliding them along the floor.
Open Head with Handles—Reinforced Top Rim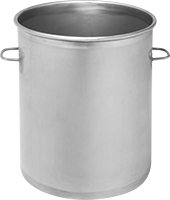 Open Head—Reinforced Top Rim and Protective Bottom Ring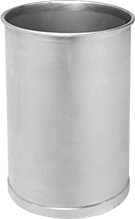 Tight-Fitting

Lids
with Leverlock
Closing Ring

Capacity,




gal.

Dia.

Ht.

Bottom
ID
Gauge
Weight


Capacity,

lbs.

Each
Each
Each

304 Stainless Steel

55
23

1/4

"
34"
22"
14
475
0000000
000000000
0000000
0000000
0000000
0000000
30
19

1/4

"
30"
18"
14
250
0000000
00000000
0000000
000000
0000000
000000

316 Stainless Steel

55
23

1/4

"
34"
22"
14
475
0000000
00000000
0000000
000000
0000000
000000
Open Head with Nut-and-Bolt Closing Ring and Lid with No Openings
Capacity,




gal.

Dia.

Ht.

Bottom
ID
Gauge
Weight
Capacity
Seal
Material
Closing
Ring
Material
Each
Each
Each
Each

316 Stainless Steel

30
19

3/4

"
28

3/4

"
18

1/4

"
16
Not Rated
EPDM Rubber
Steel
00000000
000000000
00000000
0000000
0000000
000000
0000000
000000
20
19

3/4

"
21"
18

1/4

"
16
Not Rated
EPDM Rubber
Steel
00000000
00000000
00000000
000000
0000000
00000
0000000
00000
Closed Head with Lid and Two Openings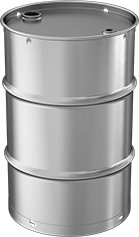 Replacement
Drum Plugs
for Pipe

Size 3/4

Replacement
Drum Plugs
for Pipe

Size 2

Capacity,




gal.

Dia.

Ht.

Bottom
ID
Gauge
Weight
Capacity
Seal
Material
Gender
Thread
Type
Pipe
Size
Shipping
Standard
Each
Each
Each

304 Stainless Steel

30
19

1/2

"
30"
18

1/4

"
16
Not Rated
PTFE Plastic
Female
NPSM

3/4

, 2
UN1A1/X1.2/600
00000000
0000000
00000000
000000
00000000
000000
10
14

1/2

"
19

1/2

"
14"
18
Not Rated
PTFE Plastic
Female
NPSM

3/4

, 2
UN1A1/X1.8/550
00000000
000000
00000000
00000
00000000
00000