For Use With

For Use With
Show
For Use With

For Use With
Hide
Warning: Products have one, but not necessarily all, of the selected characteristics.
DFARS (Defense Acquisition Regulations Supplement)

DFARS

(Defense

Acquisition

Regulations

Supplement)
Maximum Pressure

Maximum Pressure
REACH (Registration, Evaluation, Authorization and Restriction of Chemicals)

REACH

(Registration,




Evaluation,

Authorization
and Restriction of

Chemicals)
RoHS (Restriction of Hazardous Substances)

RoHS

(Restriction

of
Hazardous

Substances)
Self-Contained

Breathing Apparatuses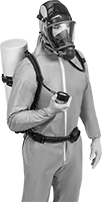 When working in confined spaces near hazardous chemicals, be prepared for an Immediately Dangerous to Life or Health (IDLH) atmosphere. Commonly stocked in labs, industrial facilities, or on gas lines, a worker can quickly strap on this apparatus for 30 minutes of breathable air. The full face mask forms a complete seal to prevent any contaminants from leaking in.
For fast access, hang on the wall using a mounting bracket (sold separately).
For
Use
With
NIOSH
Approval
Size
Mask
Material
Material
Construction
Cylinder
Life

Max.




Pressure,


psi
Each
Solid Particles, Organic Vapors, Acid Gases, Ammonia, Formaldehyde, Methylamine
TC-13F-0881
M
Silicone Rubber
Polycarbonate Plastic
Solid
30 min.
2,216
0000000
000000000