Fuel Cans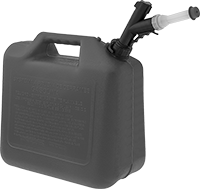 A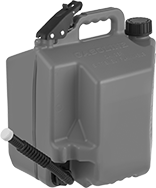 B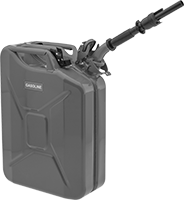 C

Replacement Cap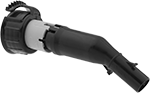 Replacement Spout
Carry and store petroleum-based liquids in these sturdy cans. Color-coding indicates usage: red for gasoline, yellow for diesel, and blue for kerosene.
The spout on Styles A and C automatically closes to prevent spills. Push the button to pour.
Flip the spout on Style B down for pouring and up for storage. Press the trigger to open a vent that allows smooth pouring without spills. Style B fuel cans cannot be sold to California due to local regulatory limits on VOC (volatile organic compounds), or outside the United States and Canada due to product labeling requirements.
Style

Cap.,




gal.

Lg.

Wd.

Ht.

Fill
Opening


Dia.

Lg.

OD
Flexibility
Graduation
Marks
Specifications
Met
Color
Cannot
Be
Sold To
Each
Each
Each

For Gasoline

Polyethylene Plastic

A
1
8

1/8

"
5

7/8

"
8"
1

5/8

"
5"
1

3/8

"
Rigid
__
CARB Compliant, EPA 40 CFR 59
Red
__
0000000
000000
000000
00
0000000
000000
A
2
9

7/8

"
7

1/8

"
10"
1

5/8

"
5"
1

3/8

"
Rigid
__
CARB Compliant, EPA 40 CFR 59
Red
__
0000000
00000
000000
00
0000000
00000
A
5
14

3/4

"
10

1/8

"
15

3/8

"
1

5/8

"
5"
1

3/8

"
Rigid
__
CARB Compliant, EPA 40 CFR 59
Red
__
0000000
00000
000000
00
0000000
00000
B
2
13"
9"
12"
1

5/8

"
9"

3/4

"
Flexible
1 gal. / 4 L
C-UL Listed, D.O.T. Approved, EPA 40 CFR 59
Red
CA, Outside United States and Canada
0000000
00000
0000000
00000
000000
00
B
5
15

1/4

"
10

1/4

"
15

1/2

"
1

5/8

"
9"

3/4

"
Flexible
1 gal. / 4 L
C-UL Listed, D.O.T. Approved, EPA 40 CFR 59
Red
CA, Outside United States and Canada
0000000
00000
0000000
0000
000000
00

Painted Steel

C
5
13

1/2

"
6

1/2

"
18

1/2

"
1

1/2

"
12"
1"
Rigid
__
CARB Compliant, DOT Approved, EPA 40 CFR 59
Red
__
0000000
00000
000000
00
0000000
00000

For Diesel

Polyethylene Plastic

A
5
14

3/4

"
10

1/8

"
15

3/8

"
1

5/8

"
5"
1

3/8

"
Rigid
__
CARB Compliant, EPA 40 CFR 59
Yellow
__
0000000
00000
000000
00
0000000
00000
B
5
15

1/4

"
10

1/4

"
15

1/2

"
1

5/8

"
9"

3/4

"
Flexible
1 gal. / 4 L
C-UL Listed, D.O.T. Approved, EPA 40 CFR 59
Yellow
CA, Outside United States and Canada
0000000
00000
0000000
0000
000000
00

For Kerosene

Polyethylene Plastic

A
5
14

3/4

"
10

1/8

"
15

3/8

"
1

5/8

"
5"
1

3/8

"
Rigid
__
CARB Compliant, EPA 40 CFR 59
Blue
__
0000000
00000
000000
00
0000000
00000
B
5
15

1/4

"
10

1/4

"
15

1/2

"
1

5/8

"
9"

3/4

"
Flexible
1 gal. / 4 L
C-UL Listed, D.O.T. Approved, EPA 40 CFR 59
Blue
CA, Outside United States and Canada
0000000
00000
0000000
0000
000000
00