About Oil Fittings and Oil Cups
A built-in reservoir allows oil to gradually pass through to equipment, reducing time spent on manual lubrication. Flow rate depends on temperature.
Use 90° elbow cups for side-mount applications and where vertical space is limited.
Oil cups with wick feed have a wick that extends through the threaded connection of the cup and keeps the bearing dust-free and lubricated, even after the oil cup is drained.


Cap.,




oz.

Overall


Ht.

Installation
Clearance
Thread


Lg.

Bowl Material
Pressure
Regulation

1-9

10-Up

1/16

1

1/2

"
1

7/32

"

5/16

"
Zinc-Plated Steel
Nonvented
0000000
000000
000000

1/8

1

21/32

"
1

7/16

"

5/16

"
Zinc-Plated Steel
Nonvented
0000000
00000
00000

5/16

1

29/32

"
1

13/16

"

5/16

"
Zinc-Plated Steel
Nonvented
0000000
00000
00000

5/16

2"
1

13/16

"

3/8

"
Zinc-Plated Steel
Nonvented
0000000
00000
00000
1

5/16

2

9/16

"
2

7/16

"

3/8

"
Zinc-Plated Steel
Nonvented
0000000
000000
000000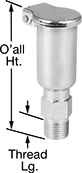 Cap.,




oz.

Overall


Ht.

Installation
Clearance
Thread


Lg.

Bowl Material
Pressure
Regulation

1-9

10-Up

1/16

2"
1

7/32

"

3/8

"
Zinc-Plated Steel
Nonvented
0000000
000000
000000

1/8

2

5/32

"
1

7/16

"

11/32

"
Zinc-Plated Steel
Nonvented
0000000
00000
00000

5/8

2

13/32

"
2"

3/8

"
Zinc-Plated Steel
Nonvented
0000000
00000
00000

5/8

2

15/32

"
2"

3/8

"
Zinc-Plated Steel
Nonvented
0000000
00000
00000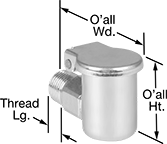 Cap.,




oz.

Ht.

Wd.

Installation
Clearance
Thread


Lg.

Bowl Material
Pressure
Regulation

1-9

10-Up

1/8

15/16

"
1

11/32

"
1

19/32

"

5/16

"
Zinc-Plated Steel
Nonvented
0000000
000000
000000

1/2

1

7/16

"
1

11/16

"
2

5/8

"

5/16

"
Zinc-Plated Steel
Nonvented
0000000
00000
00000

1/2

1

7/16

"
1

15/16

"
2

1/2

"

7/16

"
Zinc-Plated Steel
Nonvented
0000000
00000
00000
1

7/8

2

1/16

"
2

13/32

"
4"

7/16

"
Zinc-Plated Steel
Nonvented
0000000
00000
00000
3

3/4

2

1/16

"
3

1/2

"
4"

9/16

"
Zinc-Plated Steel
Nonvented
0000000
000000
00000