Plastic
Hand-Pump

Sprayers
Pump the handle to pressurize the tank, then squeeze the trigger on the wand to spray. These sprayers are often used for degreasers, insecticides, disinfectants, cleaning solutions, and herbicides. They have a trigger that can be locked for continuous spray.
Note: The material of the parts can affect a sprayer's compatibility with a chemical or solution. Make sure the tank, seal, wand, and nozzle are suitable for your application.
Sprayers with a filter prevent clogs.
Sprayers with an extended handle let you pump, pick up, and put down sprayers without bending over, saving you from back strain.
Sprayers with a spray shield focus your spray so that chemicals go only where intended.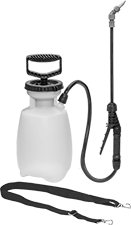 A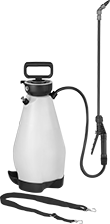 B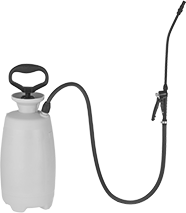 C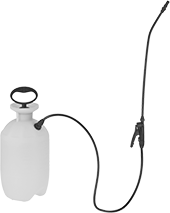 D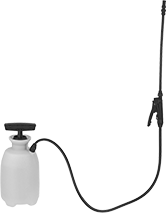 E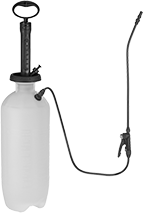 F
Replacement
Trigger and
Wand Kits

Style

Cap.,




gal.

Dia.

Ht.

Tank
Material
Seal
Material
Color
Hose


Lg.

Wand


Lg.

Fill
Opening


Dia.

Features
Includes
Each
Each
A
1
7

5/8

"
12

1/4

"
Polyethylene Plastic
Viton® Fluoroelastomer Rubber
Semi-Clear
50"
14"
2"
Continuous Spray, Filter, Pressure-Relief Cap
Shoulder Strap
0000000
000000
0000000
000000

Cone/Flat/Stream

Dispensing

B
2
8

5/8

"
17

3/8

"
Polyethylene Plastic
Viton® Fluoroelastomer Rubber
Semi-Clear
50"
18"
2"
Continuous Spray, Pressure-Relief Valve
Shoulder Strap
0000000
00000
0000000
00000
B
3
9

7/8

"
20

1/8

"
Polyethylene Plastic
Viton® Fluoroelastomer Rubber
Semi-Clear
50"
18"
2"
Continuous Spray, Pressure-Relief Valve
Shoulder Strap
0000000
00000
0000000
00000

Cone/Mist/Stream

Dispensing

C
2
8

7/16

"
20

1/2

"
Polyethylene Plastic
Nitrile Rubber
Gray
42"
12"
3"
Continuous Spray, Filter, Pressure-Relief Valve, Reinforced Hose, Wand Holder
__
0000000
00000
00000000
00000
C
3
9

5/16

"
24"
Polyethylene Plastic
Nitrile Rubber
Gray
42"
18"
3"
Continuous Spray, Filter, Pressure-Relief Valve, Reinforced Hose, Wand Holder
Shoulder Strap
0000000
00000
00000000
00000
D
1
7

1/2

"
15"
Polyethylene Plastic
Nitrile Rubber
Semi-Clear
34"
12"
3"
Continuous Spray, Filter, Reinforced Hose, Wand Holder
Measuring Cup, Spray Shield, Tool Holder Clip
0000000
00000
00000000
00000
D
2
8"
18"
Polyethylene Plastic
Nitrile Rubber
Semi-Clear
34"
12"
3"
Continuous Spray, Filter, Reinforced Hose, Wand Holder
Measuring Cup, Spray Shield, Tool Holder Clip
0000000
00000
00000000
00000
D
3
9"
15

1/2

"
Polyethylene Plastic
Nitrile Rubber
Semi-Clear
34"
18"
3"
Continuous Spray, Filter, Reinforced Hose, Wand Holder
Measuring Cup, Spray Shield, Tool Holder Clip
0000000
00000
00000000
00000
E

1/2

17

1/2

"
29

3/4

"
Polyethylene Plastic
Nitrile Rubber
Semi-Clear
34"
12"
3"
Continuous Spray, Filter, Reinforced Hose, Wand Holder
__
0000000
00000
00000000
00000
F
1
7"
13

1/2

"
Polyethylene Plastic
Nitrile Rubber
Semi-Clear
34"
12"
3"
Continuous Spray, Extended Handle, Filter, Pressure-Relief Valve, Reinforced Hose, Wand Holder
__
0000000
00000
00000000
00000
F
2
8

1/8

"
22

7/8

"
Polyethylene Plastic
Nitrile Rubber
Semi-Clear
34"
18"
3"
Continuous Spray, Extended Handle, Filter, Pressure-Relief Valve, Reinforced Hose, Wand Holder
__
0000000
00000
00000000
00000
F
3
8"
19

15/16

"
Polyethylene Plastic
Nitrile Rubber
Semi-Clear
34"
18"
3"
Continuous Spray, Extended Handle, Filter, Pressure-Relief Valve, Reinforced Hose, Wand Holder
__
0000000
00000
00000000
00000