Safety Cans
Also known as Type I safety cans, these have a single opening for both filling and pouring. Safety cans are a safer choice than fuel cans for storing flammable liquids. They have a spring-loaded, self-closing lid; pressure-relief cap; and a flame arrester.
Powder-coated steel cans are for petroleum-based liquids. Color-coding typically indicates usage: red for gasoline, yellow for diesel, blue for kerosene, and green for other liquids.
Stainless steel cans are corrosion resistant and often used with liquids such as acetone, ether, toluene, and xylene. Style E has a steel rim at the base for added support.
Polyethylene plastic cans won't rust, dent, or pit and are for chemicals and corrosives.

A

B
C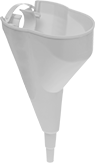 Rigid Plastic Pour Spout

Flexible Steel Pour Spout
Flexible Steel
Pour Spouts

Style

Cap.

Dia.

Ht.

Fill
Opening


Dia.

Specifications
Met
Choose
a
Color
Each
Each
Each
A
16 oz.
4

1/2

"
6

3/4

"

7/8

"
OSHA Compliant 29 CFR 1910.106, UL Listed, C-UL Listed, NFPA Code 30, FM Approved
Red
0000000
0000000
000000
00
000000
00
A
32 oz.
4

1/2

"
8

1/4

"

7/8

"
OSHA Compliant 29 CFR 1910.106, UL Listed, C-UL Listed, NFPA Code 30, FM Approved
Red
0000000
000000
000000
00
000000
00
B
64 oz.
9"
5

1/4

"
1

5/8

"
OSHA Compliant 29 CFR 1910.106, OSHA Compliant 29 CFR 1925.152, UL Listed, C-UL Listed, NFPA Code 30, FM Approved
0000000
00000
000000
00
000000
00
C
1 gal.
9

1/2

"
11"
1

5/8

"
OSHA Compliant 29 CFR 1910.106, UL Listed, C-UL Listed, NFPA Code 30, FM Approved
000000
00000
0000000
000000
0000000
000000
C
2 gal.
9

1/2

"
13

3/4

"
1

5/8

"
OSHA Compliant 29 CFR 1910.106, UL Listed, C-UL Listed, NFPA Code 30, FM Approved
00000000
00000
0000000
00000
0000000
00000
C
2

1/2

gal.
11

3/4

"
11

1/2

"
1

5/8

"
OSHA Compliant 29 CFR 1910.106, UL Listed, C-UL Listed, NFPA Code 30, FM Approved
00000000
00000
0000000
00000
0000000
00000
C
5 gal.
11

3/4

"
17"
1

5/8

"
OSHA Compliant 29 CFR 1910.106, UL Listed, C-UL Listed, NFPA Code 30, FM Approved
00000000
00000
0000000
00000
0000000
00000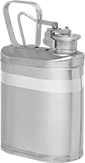 D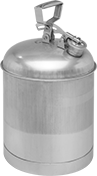 E
Style

Cap.

Dia.

Lg.

Wd.

Ht.

Fill Opening


Dia.

Specifications Met
Each
D
1 gal.
__
8"
4

3/4

"
13"
1

1/2

"
OSHA Compliant 29 CFR 1910.106, OSHA Compliant 29 CFR 1925.152, UL Listed, C-UL Listed, NFPA Code 30, FM Approved
0000000
0000000
E
2

1/2

gal.
11

1/4

"
__
__
9

3/4

"
1

1/2

"
OSHA Compliant 29 CFR 1910.106, OSHA Compliant 29 CFR 1925.152, UL Listed, C-UL Listed, NFPA Code 30, FM Approved
0000000
000000
E
5 gal.
11

1/4

"
__
__
16"
1

1/2

"
OSHA Compliant 29 CFR 1910.106, OSHA Compliant 29 CFR 1925.152, UL Listed, C-UL Listed, NFPA Code 30, FM Approved
0000000
000000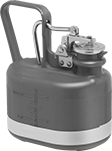 F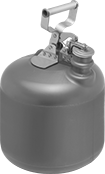 G
Style

Cap.

Dia.

Lg.

Wd.

Ht.

Fill Opening


Dia.

Specifications Met
Color
Each
F
64 oz.
__
7

3/4

"
4

3/4

"
9

1/2

"
1

5/8

"
FM Approved

Red
0000000
0000000
F
1 gal.
__
7

3/4

"
4

3/4

"
12

3/4

"
1

5/8

"
FM Approved

Red
0000000
000000
G
2

1/2

gal.
10

3/4

"
__
__
14

1/4

"
1

5/8

"
UL Listed, FM Approved
Red
0000000
000000
G
5 gal.
12

3/4

"
__
__
16"
1

5/8

"
UL Listed, FM Approved
Red
0000000
000000