Safety Cans with Faucet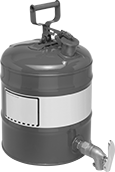 Powder-Coated
Steel and 316 Stainless Steel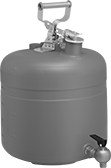 Polyethylene Plastic
A self-closing faucet provides controlled, one-handed dispensing of flammable liquids. These safety cans also have a flame arrester and a self-closing pressure-relief cap.
Powder-coated steel cans are for petroleum-based liquids.
Polyethylene plastic cans are for chemicals and corrosives.
Stainless steel cans are corrosion resistant and often used with liquids such as acetone, ether, toluene, and xylene.
Cap.,




gal.

Dia.

Ht.

Fill
Opening


Dia.

Material
Outlet
Thread
Size

Outlet
Thread
Type
Seal
Material
Specifications
Met
Color
Each
5
11

3/4

"
17"
1

1/2

"
Brass

13/16

"-27

UNS
PTFE Plastic
OSHA Compliant 29 CFR 1910.106, FM Approved, NFPA Code 30
Red
0000000
0000000

Polyethylene Plastic

5
13

1/2

"
17"
1

1/2

"
Brass

1/2

"-20

UNF
PTFE Plastic
OSHA Compliant 29 CFR 1910.106, FM Approved, NFPA Code 30
Red
0000000
000000

316 Stainless Steel

5
11

1/4

"
16"
1

1/2

"
316 Stainless Steel

7/8

"-27
UNS
PTFE Plastic
OSHA Compliant 29 CFR 1910.106, OSHA Compliant 29 CFR 1925.152, FM Approved, NFPA Code 30
__
0000000
000000