Steel
Side-by-Side

Double-Cylinder

Trucks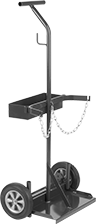 A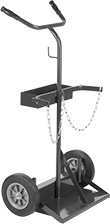 B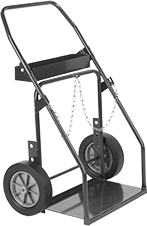 C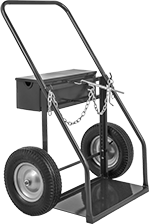 D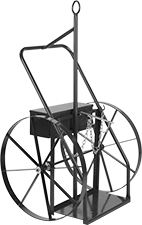 E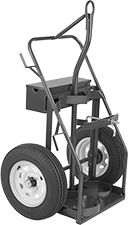 F
Move two cylinders at once with these strong, durable steel trucks. They cradle two cylinders side-by-side and let you strap them in for safe transport.
Style A and B have a hose hook and tool tray. Style B has dual handles for more comfortable hand placement.
Style C have a tool tray.
Styles D, E, and F have a lockable toolbox.
Styles E and F have an eye on the handle for towing. Style F handles can be secured in an upright position for lifting.
Tread-on-core rubber wheels have a hard core with a shock-absorbing rubber tread. Pneumatic rubber wheels provide a cushioned ride over the roughest surfaces, such as gravel. Flat-free rubber wheels cushion as well as pneumatic wheels but won't go flat. Steel wheels are rugged but noisy and may damage floors. They work best on smooth surfaces.
Warning: Never use to lift people or items over people.
For

Max.


Cylinder

Dia.

O'all




Cap.,




lbs.

Frame
Color

Wd.

Dp.

Handle


Ht.

Holding
Mechanism


Ht.

Max.




Speed,


mph
Eye
ID
Bar


Lg.

Wheel
Configuration
Wheel


Dia.

Each
7

1/2

", 9

1/4

"
300
Green
17"
8"
45"
22

3/4

"
__
__
__
Two Axle-Mounted Wheels
8"
0000000
0000000

Tread-on-Core

Rubber Wheels

9

1/4

", 10

1/2

"
350
Green
20"
9"
45

1/2

"
22

3/4

"
__
__
__
Two Axle-Mounted Wheels
10"
0000000
000000

Tread-on-Core

Rubber Wheels

9

1/4

", 13

1/2

"
450
Green
24"
13"
46"
27"
__
__
__
Two Axle-Mounted Wheels
12"
000000
000000

Pneumatic Rubber Wheels

9

1/4

", 13

1/2

"
450
Green
24"
13"
46"
27"
__
__
__
Two Axle-Mounted Wheels
16"
000000
000000

Pneumatic Rubber Wheels

9

1/4

", 13

1/2

"
500
Green
24"
13"
48

1/2

"
24"
__
__
__
Two Axle-Mounted Wheels
16"
0000000
000000

Solid Steel Wheels

9

1/4

", 13

1/2

"
500
Green
24"
13"
48

1/2

"
24"
5
3"
60"
Two Axle-Mounted Wheels
30"
0000000
000000

Pneumatic Rubber Wheels

9

1/4

", 13

1/2

"
500
Green
24"
13"
49

1/2

"
24"
5
3"
65"
Two Axle-Mounted Wheels
21"
0000000
00000000