Water-Based

Parts Washing Solutions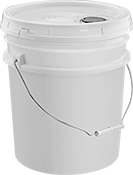 Clean faster by heating these solutions up to 140°. After washing, parts can be rinsed with water.
Dilute liquid concentrate with water. 5-gallon pail makes up to 50 gallons of solution. 55-gallon drum makes up to 500 gallons of solution.
Mix three to eight ounces of powder per gallon of water.
Size
Type
For Use On
For Removing

Max.




Temp.,

°F

Each

Liquid Concentrate

5 gal.
Pail
Aluminum, Brass, Bronze, Copper, Glass, Iron, Plastic, Stainless Steel, Steel, Titanium
Carbon Residue, Epoxy, Grease, Oil, Paint, Rust
140°
0000000
000000
55 gal.
Drum
Aluminum, Brass, Bronze, Copper, Glass, Iron, Plastic, Stainless Steel, Steel, Titanium
Carbon Residue, Epoxy, Grease, Oil, Paint, Rust
140°
0000000
000000

Powder

25 lbs.
Pail
Aluminum, Brass, Bronze, Copper, Titanium
Carbon Residue, Epoxy, Grease, Oil, Paint, Rust
140°
0000000
000000