About Accident Prevention Signs


Directing people to first-aid stations, the bright color, clear picture, and text on these decals make them easy to notice and understand. They have an adhesive back that sticks flat to smooth floors, and a textured surface that helps prevents slipping. Made of vinyl, these decals stand up to heavy foot traffic, vehicle traffic, cleanings, and chemical and water spills. Their message won't fade from exposure to UV light.
Temperature check decals alert people to stop and get tested for a fever before passing, in order to prevent the spread of illness.
Security and Admittance Signs
Mark entrances, employee-only work areas, and no-trespassing zones.
Body temperature check signs announce your facility's efforts to limit the spread of illness. All of these signs are UV resistant, so they won't fade in sunlight. For indoor use, choose between vinyl and polyethylene signs. Vinyl signs won't deteriorate from moisture. Stick them to flat surfaces with the adhesive backing. Polyethylene signs are more durable than vinyl signs, and they don't chip or crack easily. Aluminum signs are the best choice for outdoor use. They are more durable than plastic and vinyl signs, and they won't corrode from water, chemical splashes, or harsh weather.
Aluminum signs are the best choice for long-lasting outdoor use. More durable than polystyrene signs, they won't corrode if exposed to water or harsh weather. They're also UV resistant, so they won't fade in sunlight.
Signs that meet OSHA 29 CFR 1910.145 follow color and text standards for sharing information that is important, but not hazard-related.
For technical drawings and 3-D models, click on a part number.
Notice—All Our Staff Must Undergo Body Temperature Check and Wear Face Masks Before Entering (English)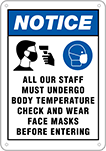 Ht.

Wd.

Thick.

Fasteners
Included
Number
of Holes
Hole


Dia.

Specifications Met
Each

Adhesive

Back—

Vinyl Plastic

10"
7"
0.04"
__
__
__
OSHA Compliant 29 CFR 1910.145
00000000
00000
14"
10"
0.04"
__
__
__
OSHA Compliant 29 CFR 1910.145
00000000
00000

With Mounting

Holes—

Polyethylene Plastic

10"
7"
0.055"
No
4

7/32

"
OSHA Compliant 29 CFR 1910.145
00000000
0000
14"
10"
0.055"
No
4

7/32

"
OSHA Compliant 29 CFR 1910.145
00000000
00000
18"
12"
0.055"
No
4

1/4

"
OSHA Compliant 29 CFR 1910.145
00000000
00000
24"
18"
0.055"
No
4

1/4

"
OSHA Compliant 29 CFR 1910.145
00000000
00000

With Mounting

Holes—

Aluminum

10"
7"
0.04"
No
4

7/32

"
OSHA Compliant 29 CFR 1910.145
00000000
00000
14"
10"
0.04"
No
4

7/32

"
OSHA Compliant 29 CFR 1910.145
00000000
00000
18"
12"
0.063"
No
4

1/4

"
OSHA Compliant 29 CFR 1910.145
00000000
00000
24"
18"
0.08"
No
4

1/4

"
OSHA Compliant 29 CFR 1910.145
00000000
00000
To Ensure Your Health & Safety—Body Temperature Check is Required Prior to Entering (English)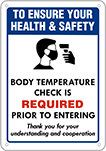 Ht.

Wd.

Thick.

Fasteners
Included
Number
of Holes
Hole


Dia.

Each

Adhesive

Back—

Vinyl Plastic

10"
7"
0.04"
__
__
__
00000000
00000
14"
10"
0.04"
__
__
__
00000000
00000

With Mounting

Holes—

Polyethylene Plastic

10"
7"
0.055"
No
4

7/32

"
00000000
0000
14"
10"
0.055"
No
4

7/32

"
00000000
00000
18"
12"
0.055"
No
4

1/4

"
00000000
00000

With Mounting

Holes—

Aluminum

10"
7"
0.04"
No
4

7/32

"
00000000
00000
14"
10"
0.04"
No
4

7/32

"
00000000
00000
18"
12"
0.063"
No
4

1/4

"
00000000
00000