Non-Contact

Forehead Thermometers

These thermometers take touch-free readings in a single second with an infrared sensor. Unlike traditional thermometers, they don't need to be disinfected between uses, so you can quickly take temperatures from multiple people without the risk of spreading illness. The digital LCD display is easy to read even in dim lighting. These thermometers glow green, orange, or red to indicate normal, elevated, or high body temperatures.
All are registered with the FDA for use as a medical device. They also meet ISO 13485 standards for medical device design and manufacturing.
These thermometers cannot be sold to Canada due to import regulations.
Temperature
Range
Resolution
Accuracy

Max.


Distance
Response


Time,




sec.

Ht.

Dp.

Housing
Material
Specifications
Met
Batteries
Included
Cannot
Be
Sold To
Each
95° to 107° F/35° to 42° C
0.1° F/0.1° C
±0.4° F/±0.2° C
1"
1
5"
1

1/2

"
Plastic
FDA Registered, Class II Medical Device; ISO 13485
Yes
Canada
000000
0000000
Non-Contact

Temperature Screeners
Quickly take people's temperatures as they enter your facility to screen out anyone with a high reading. These screeners have a thermal camera that uses infrared light to measure forehead temperature in two seconds at a distance of one to two feet. They're accurate within 0.9° F and 0.5° C, and work even if people are wearing masks, hats, and glasses. If their temperature is normal, there's an audible notification. Connect them to your network using Wi-Fi or their Ethernet port in order to create a library of photos, retain data for reporting, and customize the screeners to display directions and your company name and logo. For basic temperature scanning only, there's no need to connect them to your network—simply plug their power cord into a wall outlet. If you want to keep people from entering until they pass the temperature check, wire these screeners to doors and gates. CE marked, they meet European safety, health, and environmental protection requirements.
Mount these screeners to a wall, or add a floor stand.
Warning: These screeners are not intended for medical use.
For technical drawings and 3-D models, click on a part number.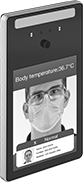 Temperature Screener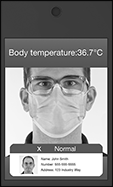 Temperature

Range;


Temperature
Range

- 2

Resolution ;
Resolution


- 2

Accuracy;


Accuracy


- 2

Max.


Working


Distance,

ft.

Response


Time,




sec.

Ht.

Wd.

Dp.

Housing
Material
Specifications
Met
Cord


Lg.,




ft.

Mounting
Fasteners
Included
Each
89° to 106° F/31° to 41° C
0.1° F/0.1° C
±0.9° F/±0.5° C
2
2
10

1/8

"
5

7/16

"
1

13/16

"
6061 Aluminum
CE Marked

5
Yes
0000000
000000000