Modular
Channel-Mount

Terminal Blocks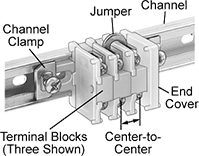 Mount these NEMA-style blocks to a channel and add as many circuits as you need.
End covers fit on the open side of a block to prevent accidental contact with a live circuit. One end cover is required per group of terminal blocks.
Channels accommodate up to 48 terminals per foot.
Channel clamps secure a group of terminal blocks to a channel. A clamp is required on each end of a group of blocks.
Jumpers connect side-by-side terminals.
For technical drawings and 3-D models, click on a part number.
Current
Per


Circuit,

A
For
Wire
Gauge
Terminal


Ctr.-to-Ctr.

Specifications
Met

1-24

25-Up

1-24

25-Up

1-24

25-Up

1-24

25-Up

1-24

25-Up

Surface/Channel-Mount

Blocks—

1 Circuit with

Screw-Clamp

Terminals

600V AC

30
22-10

3/8

"
UL Recognized Component, C-UL Recognized Component
0000000
00000
00000
0000000
00000
00000
0000000
000000
000000
0000000
00000
00000
0000000
00000
00000

Channel-Mount

Blocks—

1 Circuit with

Screw-Clamp

Terminals

600V AC

30
22-10

3/8

"
UL Recognized Component, C-UL Recognized Component
0000000
0000
0000
0000000
0000
0000
0000000
00000
00000
0000000
0000
0000
0000000
0000
0000
65
18-6

9/16

"
UL Recognized Component, CSA Certified
0000000
00000
00000
0000000
0000
0000
0000000
00000
00000
0000000
0000
0000
000000
00
00