Selecting Clamps Using
Pipe,

Conduit,

or Tubing Trade Size
Adjustable Standoff Clamps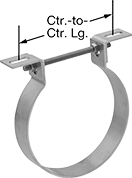 Tighten the included bolt and nut for an exact fit around material. Clamps secure vertical pipe in sanitation drain applications and prevent them from coming in contact with the mounting surface.
304 stainless steel clamps have very good corrosion resistance.
316 stainless steel clamps have excellent corrosion resistance.
For technical drawings and 3-D models, click on a part number.
Inch

Metric,


mm

Ctr.-to-Ctr.




Lg.

Lg.

Wd.

Ht.

Thick.

Fasteners
Included
Hole


Wd.

Hole


Lg.

For
Screw
Size

Includes
Each

304 Stainless Steel

8

1/4

"-8

9/16

"
210-217
9

3/16

"
11

3/16

"
1

1/2

"
11

3/16

"

1/8

"
No

7/16

"
1

1/2

"

3/8

"

Adjusting Bolt and Nut
0000000
0000000

316 Stainless Steel

8

1/4

"-8

9/16

"
210-217
9

3/16

"
11

3/16

"
1

1/2

"
11

3/16

"

1/8

"
No

7/16

"
1

1/2

"

3/8

"

Adjusting Bolt and Nut
0000000
000000