About Hazardous Location Environmental Ratings
Hazardous Location Flashlights

A

B

F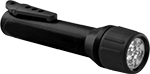 G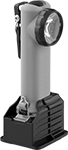 J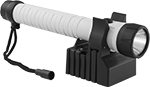 K

C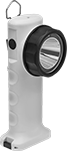 E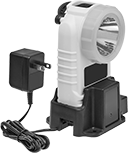 H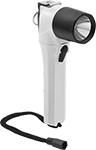 D

Uniform Beam

Rated for use in environments where hazardous material is present. These flashlights have built-in LEDs that last longer, are more efficient, and generate less heat than other light technologies.
Flashlights with a uniform beam are especially good for close-up tasks and inspection work. Flashlights with a bull's eye beam have a bright center for long-distance illumination.
Style H can operate on either the included rechargeable batteries or standard AA alkaline batteries.
Flashlights that cannot be sold to the regions listed are restricted by local energy efficiency regulations.
Hazardous location environmental ratings indicate where manufacturers have included safety features in products to facilitate their safe use in hazardous environments. Before selecting a product for a hazardous location, ensure it is rated for your environment. See About Hazardous Location Environmental Ratings.
Note: Battery life is significantly reduced when flashlights are used at the high-beam light setting.
Style
Flashlight
Type
Brightness


(Battery Life)

Light
Setting

Distance,




ft.

Color

Lg.

Dia.

Wd.

Dp.

Environmental
Rating
Cannot
Be
Sold To
Each

LED

Bulbs—

Fixed Beam Focus

Hazardous Location

A
Mini
30 lumens (120 hrs.)
Momentary
110
White
5

1/4

"
1"
__
__
NEC Class I Divisions 1, 2 Groups A, B, C, D
NEC Class II Divisions 1, 2 Groups E, F, G
NEC Class III Divisions 1, 2
__
0000000
000000
A
Mini
30 lumens (120 hrs.)
Momentary
110
White
5

1/4

"
1"
__
__
NEC Class I Divisions 1, 2 Groups A, B, C, D
NEC Class II Divisions 1, 2 Groups E, F, G
NEC Class III Divisions 1, 2
__
0000000
00000
B
Mini
67 lumens (155 hrs.)
Momentary
685
White
6

1/2

"
1

5/8

"
__
__
NEC Class I Divisions 1, 2 Groups C, D
NEC Class I Division 2 Groups A, B, C, D
NEC Class II Division 2 Groups F, G
NEC Class III Divisions 1, 2
__
0000000
00000
B
Mini
67 lumens (155 hrs.)
Momentary
685
White
6

1/2

"
1

5/8

"
__
__
NEC Class I Divisions 1, 2 Groups C, D
NEC Class I Division 2 Groups A, B, C, D
NEC Class II Division 2 Groups F, G
NEC Class III Divisions 1, 2
__
0000000
00000
F
Standard
109 lumens (32 hrs.)
__
475
White
8

1/8

"
1

3/4

"
__
__
NEC Class I Divisions 1, 2 Groups A, B, C, D
NEC Class II Divisions 1, 2 Groups F, G
NEC Class III Divisions 1, 2
IEC Zone 0 Groups IIC, IIB, IIA
IEC Zone 20 Groups IIIC, IIIB, IIIA
IP60
__
000000
00000
G
Standard
85 lumens (335 hrs.)
Momentary
830
White
8

1/2

"
2"
__
__
NEC Class I Division 2 Groups A, B, C, D
NEC Class I Divisions 1, 2 Group D
NEC Class II Division 2 Groups F, G
NEC Class III Divisions 1, 2
__
0000000
00000
J
Standard
175 lumens (3 hrs.)
60 lumens (13 hrs.)
10 lumens (480 hrs.)
High Beam
Medium Beam
Low Beam
Strobe
1,325
White
7

1/8

"
2

7/8

"
__
__
NEC Class I Divisions 1, 2 Groups C, D
NEC Class I Division 2 Groups A, B, C, D
NEC Class II Divisions 1, 2 Groups E, F, G
NEC Class III Divisions 1, 2
Canada
00000000
000000
K
Standard
130 lumens (4 hrs.)
50 lumens (12 hrs.)
1 lumens (480 hrs.)
High Beam
Medium Beam
Low Beam
Strobe
800
White
10

1/4

"
1

3/4

"
__
__
NEC Class I Divisions 1, 2 Groups C, D
NEC Class I Division 2 Groups A, B, C, D
NEC Class II Divisions 1, 2 Groups F, G
NEC Class III Divisions 1, 2
Canada
00000000
000000

Hazardous

Location,

Wet Location

C
Mini
233 lumens (4 hrs.)
113 lumens (7 hrs.)
High Beam
Low Beam
Downcast Beam
960
White
5

5/16

"
__
3

1/8

"
1

5/8

"
NEC Class I Divisions 1, 2 Groups A, B, C, D
IEC Zone 0 Groups IIC, IIB, IIA
IP04
__
0000000
000000
E
Mini
200 lumens (11 hrs.)
110 lumens (18 hrs.)
60 lumens (33 hrs.)
High Beam
Medium Beam
Low Beam
Strobe
1,315
White
6

5/8

"
__
2

5/8

"
2

5/8

"
NEC Class I Divisions 1, 2 Groups A, B, C, D
NEC Class II Divisions 1, 2 Groups E, F, G
NEC Class III Divisions 1, 2
IEC Zone 0 Groups IIC, IIB, IIA
IP67

__
000000
00000
H
Mini
237 lumens (3 hrs.)
113 lumens (6.5 hrs.)
High Beam
Low Beam
Downcast Beam
Flashing
985
White
5

5/16

"
__
3

1/8

"
1

5/8

"
NEC Class I Divisions 1, 2 Groups A, B, C, D
IP04
CA, OR
0000000
000000
D
Standard
183 lumens (5 hrs.)
__
600
White
7

1/2

"
__
3

5/8

"
1

1/8

"
NEC Class I Divisions 1, 2 Groups A, B, C, D
NEC Class II Divisions 1, 2 Groups E, F, G
NEC Class III Divisions 1, 2
IEC Zone 0 Groups IIC, IIB, IIA
IEC Zone 20 Groups IIIC, IIIB, IIIA
IP66

__
00000000
00000