Headlamps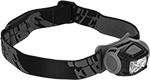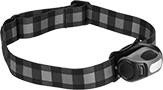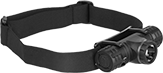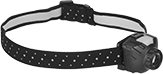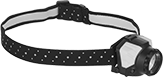 Uniform Beam

Keep your hands free by wearing a flashlight on your head. These headlamps have long-lasting, built-in LEDs that produce more light and generate less heat than other light technologies. An included strap secures the lamp to your head and adjusts for a comfortable fit. All are IP rated for resistance to splashing liquid from all directions.
Headlamps with an adhesive mount attach directly to hard hats. They come with an alternate slip-resistant silicone strap, and clips for securing the strap to hard hats.
Headlamps with a uniform beam are especially good for close-up tasks and inspection work. Headlamps with a bull's eye beam have a bright center that can reach long distances.
Use headlamps with ultraviolet LED lights for fluorescent leak detection in HVAC-R systems.
Headlamps that cannot be sold to Canada are restricted by local energy efficiency requirements.
Note: Battery life is significantly reduced when headlamps are used at the high-beam light setting.
Brightness

(Battery Life)

Head
Tilt
Alkaline
Battery
Lithium
Ion
Battery
Light
Setting

Distance,




ft.

Color

Wd.

Dp.

Ht.

Strap
Material
Alkaline
Lithium
Ion


(Li-Ion)

Rechargeable
Cannot
Be
Sold To
Each

LED Bulbs

Fixed Beam Focus with Uniform Pattern

90°
300 lumens (43 hrs.)
90 lumens (16 hrs.)
__
High Beam
Low Beam
150
Blue
Green
Red
White
2

1/4

"
1

1/2

"
1

1/4

"
Nylon
Yes
__
No
__
00000000
000000
90°
78 lumens (50 hrs.)
39 lumens (90 hrs.)
18 lumens (146 hrs.)
__
High Beam
Medium Beam
Low Beam
Strobe
130
White
1

1/4

"
2"
1"
Nylon
Yes
__
No
__
0000000
00000
90°
250 lumens (5 hrs.)
125 lumens (42 hrs.)
__
High Beam
Low Beam
78
White
2

1/8

"
1

3/8

"
1

1/8

"
Nylon
Yes
__
No
__
00000000
00000

Adjustable

Twist-Head

Beam Focus with Uniform Pattern

75°
330 lumens (8 hrs.)
1 lumens (93 hrs.)
__
High Beam
Low Beam
420
White
3

1/8

"
1

3/4

"
2

1/2

"
Elastic
Yes
__
No
__
0000000
00000

Adjustable

Twist-Head

Beam Focus with

Bull's

Eye Pattern

75°
285 lumens (1 hrs.)
4 lumens (70 hrs.)
__
High Beam
Low Beam
390
White
2

7/8

"
1

1/4

"
1

3/4

"
Elastic
Yes
__
No
__
0000000
00000
75°
240 lumens (1 hrs.)
4 lumens (40 hrs.)
__
High Beam
Low Beam
340
White
2

7/8

"
1

1/4

"
1

3/4

"
Elastic
Yes
__
Yes
Canada
0000000
00000

Adjustable

Twist-Head

Beam Focus with Uniform and

Bull's

Eye Pattern

90°
__
1000 lumens (7 hrs.)
150 lumens (10 hrs.)
40 lumens (41 hrs.)
High Beam
Medium Beam
Low Beam
540
White
3

3/4

"
1

3/4

"
1"
Fabric
__
Yes
Yes
Canada
0000000
00000

LED Bulbs with Adhesive Mount

Fixed Beam Focus with Uniform Pattern

90°
400 lumens (2 hrs.)
200 lumens (6 hrs.)
55 lumens (18 hrs.)
450 lumens (2 hrs.)
200 lumens (4 hrs.)
55 lumens (10 hrs.)
High Beam
Medium Beam
Low Beam
100
White
2

3/8

"
1

3/4

"
2"
Fabric
Yes
Yes
Yes
Canada
0000000
00000

Adjustable

Twist-Head

Beam Focus with

Bull's

Eye Pattern

90°
610 lumens (2 hrs.)
330 lumens (5 hrs.)
90 lumens (17 hrs.)
700 lumens (1 hrs.)
350 lumens (4 hrs.)
90 lumens (8 hrs.)
High Beam
Medium Beam
Low Beam
650
Red
White
2

3/8

"
1

3/4

"
2"
Fabric
Yes
Yes
Yes
Canada
0000000
000000

LED and Ultraviolet LED Bulbs

Fixed Beam Focus with Uniform Pattern

90°
300 lumens (43 hrs.)
90 lumens (16 hrs.)
__
High Beam
Low Beam
150
White
2

1/4

"
1

1/2

"
1

1/4

"
Nylon
Yes
__
No
__
00000000
00000