Penlights

A

B

C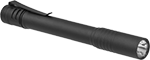 D

E

F

G

H

Uniform Beam

Small enough to fit in your pocket, these slim flashlights have built-in LEDs that last longer, are more efficient, and generate less heat than other light technologies. The bodies are knurled for a slip-resistant grip. All penlights were tested and rated to ANSI/NEMA FL 1 standards.
Adjustable-beam penlights change from a wide floodlight to a narrow spotlight with a twist of the head.
Penlights with a uniform beam are especially good for close-up tasks and inspection work. Penlights with a bull's eye beam have a bright center for long-distance illumination.
IP04 penlights withstand liquid splashed from all angles.
Style A penlights can be submerged in up to 1 meter of water.
Style B has a spring-loaded clip for attaching to the edge of a surface, so you can keep your hands free for other work.
Style G operates on rechargeable AAA batteries.
Style H uses rechargeable 3.7 volt batteries.
Penlights that cannot be sold to Canada do not meet local energy efficiency requirements.
Note: Battery life is significantly reduced when flashlights are used at the high-beam light setting.
Style
Brightness


(Battery Life)

Light
Setting

Distance,




ft.

Color
Pattern

Lg.

Dia.

Material
Environmental
Rating
Included

No.


Required
Rechargeable
Cannot
Be
Sold To
Includes
Each

LED Bulbs

Fixed Beam Focus

A
100 lumens (1 hrs.)
22 lumens (5.5 hrs)
High Beam
Low Beam
Momentary
160
White
Uniform
2

3/4

"

1/2

"
Aluminum
__
Yes
1
No
__
__
000000000
000000
B
Not Rated (2.5 hrs.)
__
65
White
Uniform
4"

11/16

"
Aluminum
IP04
Yes
1
No
__
__
000000
00000
C
Not Rated (11 hrs.)
__
75
White
Uniform
5

5/8

"

5/8

"
Aluminum
IP04
Yes
2
No
__
__
0000000
00000
C
Not Rated (2.5 hrs.)
__
65
White
Uniform
4"

5/8

"
Aluminum
IP04
Yes
1
No
__
Pocket Clip
000000
00000
D
100 lumens (8 hrs.)
Momentary
200
White
Bull's Eye
5

1/4

"

5/8

"
Aluminum
IP04
Yes
2
No
__
Holster, Pocket Clip
0000000
00000
E
11 lumens (24 hrs.)
Momentary
65
White
Bull's Eye
6

1/4

"

3/8

"
Aluminum
IP04
Yes
3
No
__
__
0000000
00000
E
2 lumens (24 hrs.)
Momentary
65
Blue
Bull's Eye
6

1/4

"

3/8

"
Aluminum
IP04
Yes
3
No
__
Pocket Clip
0000000
00000

Adjustable

Twist-Head

Beam Focus

C
105 lumens (2 hrs.)
5 lumens (3 hrs.)
High Beam
Low Beam
Momentary
200
White
Bull's Eye
Uniform
5

3/4

"

1/2

"
Aluminum
IP04
Yes
2
No
__
__
000000
00000
F
200 lumens (6 hrs.)
34 lumens (25 hrs.)
High Beam
Low Beam
Strobe
655
White
Bull's Eye
4

3/4

"
1"
Aluminum
IP04
Yes
3
No
__
__
000000
00000
G
1,000 lumens (3.25 hrs.)
280 lumens (11 hrs.)
High Beam
Low Beam
351
White
Bull's Eye
Uniform
4

1/2

"
1

1/16

"
Aluminum
IP54

Yes
3
Yes
Canada
__
0000000
00000
H
245 lumens (1 hrs.)
26 lumens (6 hrs.)
High Beam
Low Beam
305
White
Bull's Eye
Uniform
5

3/4

"

11/16

"
Aluminum
IP04
Yes
2
Yes
Canada
__
000000
00000