Pivoting-Head

Cordless Portable Lights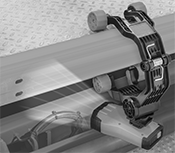 B (Shown with Clamp Attachment)

A

B (Shown
with
Pistol-Grip
Handle)
A movable head lets you aim light where it's needed most in areas that don't have electrical power service. These lights have built-in LEDs that last longer, are more efficient, and generate less heat than other light technologies. They have an impact-resistant plastic lens to protect the LEDs.
Style A casts a neutral light that's consistent with the type of light often found in workspaces.
Style B casts a cool light that highlights white/blue tones, which is good for inspecting. It comes with a pistol-grip handle and a clamp attachment; swap-out the handle for the clamp when you need your hands free for other work. They cannot be sold to the regions listed due to local energy efficiency requirements.
Style

Lg.

Dia.

Wd.

Dp.

Brightness


(Battery Life)

Light
Setting
Light
Appearance
Wattage
Material
Color
Included

No.


Required
Mount
Type
Cannot
Be
Sold To
Each
A
12"
2

1/2

"
__
__
150 lumens (Not Rated)
75 lumens (Not Rated)
High Beam
Low Beam
Neutral (4000K)
Not Rated
Plastic
Yellow
No
3
Hook, Magnetic
__
000000
000000
B
17

1/2

"
__
5"
9"
1,000 lumens (3 hrs.)
550 lumens (6 hrs.)
High Beam
Low Beam
Cool (6550K)
3W
Plastic
Red
Yes
1
Clamp On, Magnetic
CA, Canada
000000
000000