Coated
Touch-Screen

Work Gloves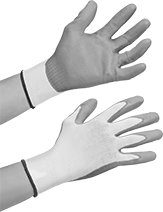 Operate touch-screen devices without removing your gloves. A coating on the palm adds wear and abrasion resistance.
High-Dexterity

Touch-Screen

Work Gloves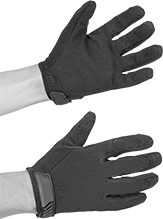 These are the most form fitting and flexible touch-screen work gloves we offer for improved dexterity. Use them to operate touch-screen devices without removing your gloves.
Cross-Contamination

Prevention Gloves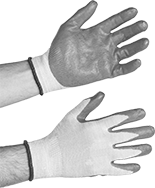 Prevent cross-contamination when handling objects that many people touch. These gloves have a silver ion finish that keeps bacteria, mold, mildew, fungi, and other microbes from growing. Made of nylon, they're washable and form-fitting, which means you can perform manual tasks without taking them off. A nitrile coating resists oil, so these gloves are good for packaging, waste disposal, cleaning, and maintenance work. The nitrile coating also gives you a secure grip and is only on the palms, meaning the rest of the glove is more breathable. They also have touch-screen compatible fingertips to work with smartphones and other devices.
These gloves are thick and resist cuts, tears, and abrasions. All have ANSI level A1 cut resistance and level 3 abrasion resistance. They also meet EN 388 (2131A), which tests the abrasion, cut, tear, and puncture resistance of gloves. CE marked and meeting EU Biocides Regulation 528/2012, they comply with European safety, health, and environmental protection requirements.