Easy-Install

Hoist Trolleys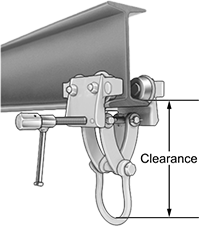 A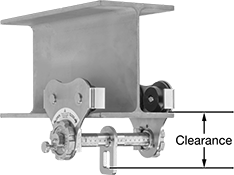 B
Fit these trolleys to your beam by turning a threaded rod or knob to adjust width—there's no need to disassemble the trolley for installation. Use them to transport hook-mount hoists along a beam. Wheel bumpers protect the wheels from collisions with other equipment.
Glow-in-the-dark ruler keeps width measurements visible in dark conditions.
Warning: Never use to lift people or items over people.
tons

lbs.

Shape

Wd.

Min.




Ht.

Max.




Thick.

Clearance

Min.


Curve
Radius
Wheel
Material
Eye


Dia.

Adjustment
Type
Features
Each

With Mounting Eye

Steel

A
1
2,240
Flat, Tapered
2

1/2

"-8"
3"
1"
8"-9

3/4

"
59"
Steel
3

1/8

"
Screw
Wheel Bumpers
0000000
0000000
A
2
4,480
Flat, Tapered
3"-8"
3"
1"
8"-9

3/4

"
59"
Steel
3

1/8

"
Screw
Wheel Bumpers
0000000
000000
B

1/2

1,000
Flat, Tapered
2

3/4

"-8"
2

1/2

"
1

1/4

"
6

1/4

"
33"
Cast Iron
1"
Screw
Glow-in-the-Dark Ruler, Wheel Bumpers
0000000
000000
B

1/2

1,000
Flat, Tapered
3

1/2

"-12"
2

1/2

"
1

1/4

"
6

1/4

"
33"
Cast Iron
1"
Screw
Glow-in-the-Dark Ruler, Wheel Bumpers
0000000
000000
B
1
2,000
Flat, Tapered
2

3/4

"-8"
3

1/4

"
1"
7"
40"
Cast Iron
1

1/4

"
Screw
Glow-in-the-Dark Ruler, Wheel Bumpers
0000000
000000
B
1
2,000
Flat, Tapered
3

1/2

"-12"
3

1/4

"
1

1/4

"
7"
40"
Cast Iron
1

1/4

"
Screw
Glow-in-the-Dark Ruler, Wheel Bumpers
0000000
000000
B
2
4,000
Flat, Tapered
3

3/4

"-8"
3

1/2

"
1

1/2

"
8

1/2

"
54"
Steel
1

3/8

"
Screw
Glow-in-the-Dark Ruler, Wheel Bumpers
0000000
00000000
B
3
6,000
Flat, Tapered
3

3/4

"-8"
4

1/2

"
1

3/4

"
10"
60"
Steel
1

1/2

"
Screw
Glow-in-the-Dark Ruler, Wheel Bumpers
0000000
00000000